Share
Regular price
Sale price
$14.99
Unit price
per
Sale
Sold out
These sample bottles are at their best when you use them to share your personal passion. So go ahead: split up that bottle of whiskey you've been saving, share that new oil blend you've created, send a friend home with that fragrance you love. Whatever you're sharing, we're here to help.

Each bottle includes clear capacity markings at: 2 oz / 60mL, 1.5 oz / 45mL, 1 oz / 30mL. The capacity at the bottle's shoulder is 2.25 oz / 65mL, which is enough for a full 750mL bottle split into 12 samples. The neck has a large 9/16" opening for easy filling and is capped with a securely threaded lid with Polycone insert for a secure, leak-proof closure. Finally, the bottle is designed with thick glass walls and heavy base for an ultra luxury feel you won't find anywhere else. The lids include a clear 2.4 oz capacity marking for TSA carry-on security clearance.
Each Bottle set Includes:
Liquid Ministry Sample Bottles (2.4 oz  /  70mL Max Capacity)
Lids with Poly Cone Inserts
Stainless Steel + Poly Cleaning Brush
Material Information: LEAD FREE GLASS BOTTLES  -  LDPE LID INSERTS  -  ALL MATERIALS FOOD SAFE
View full details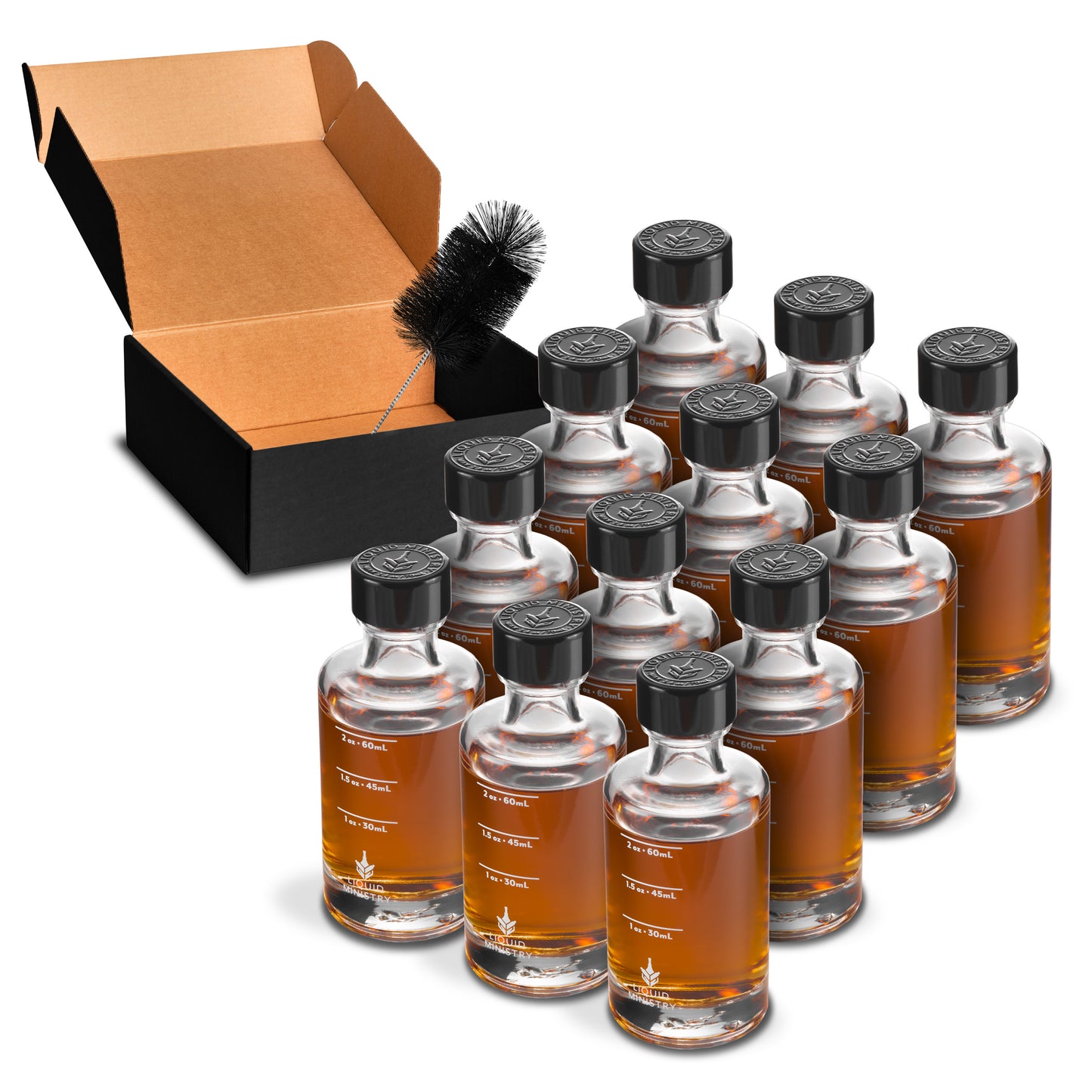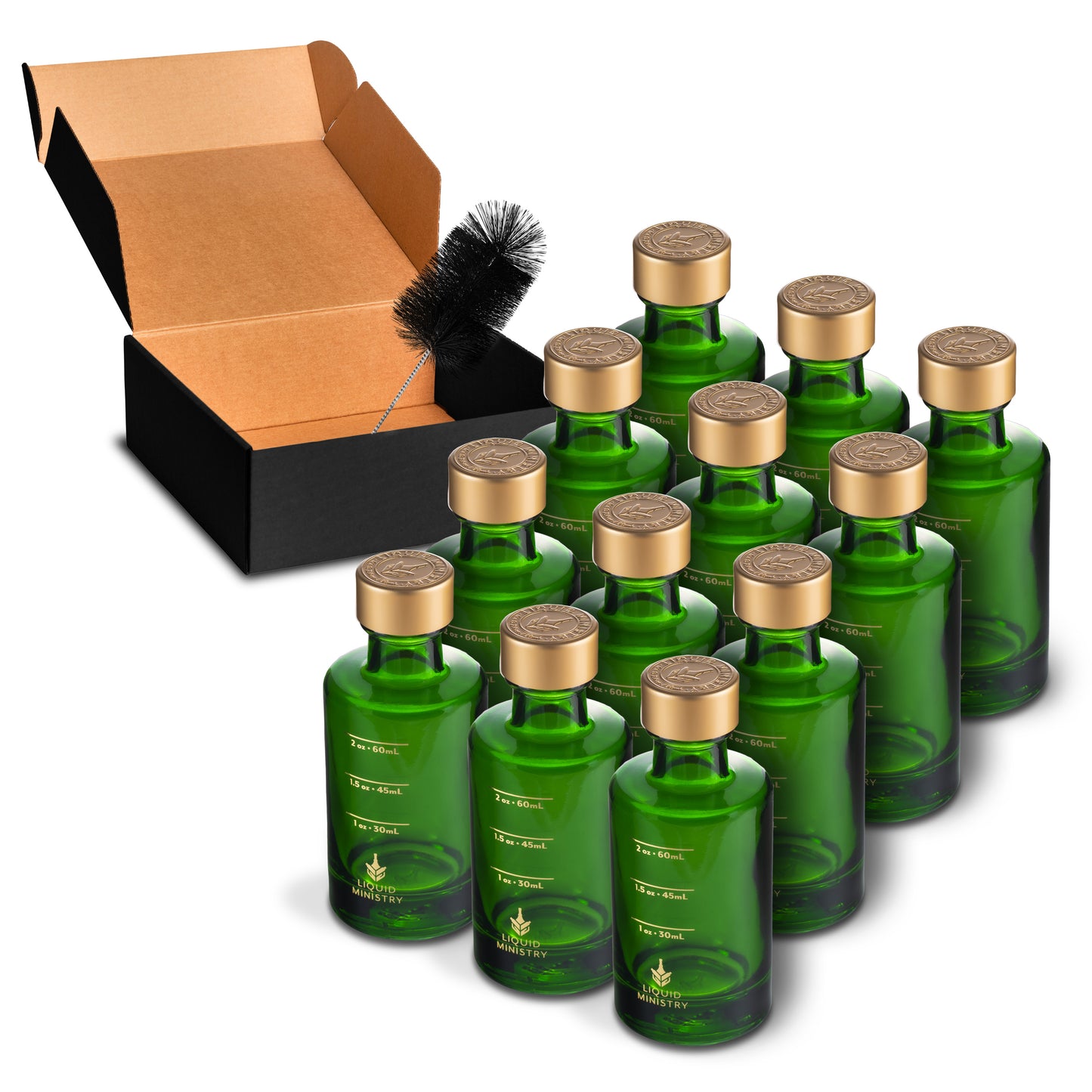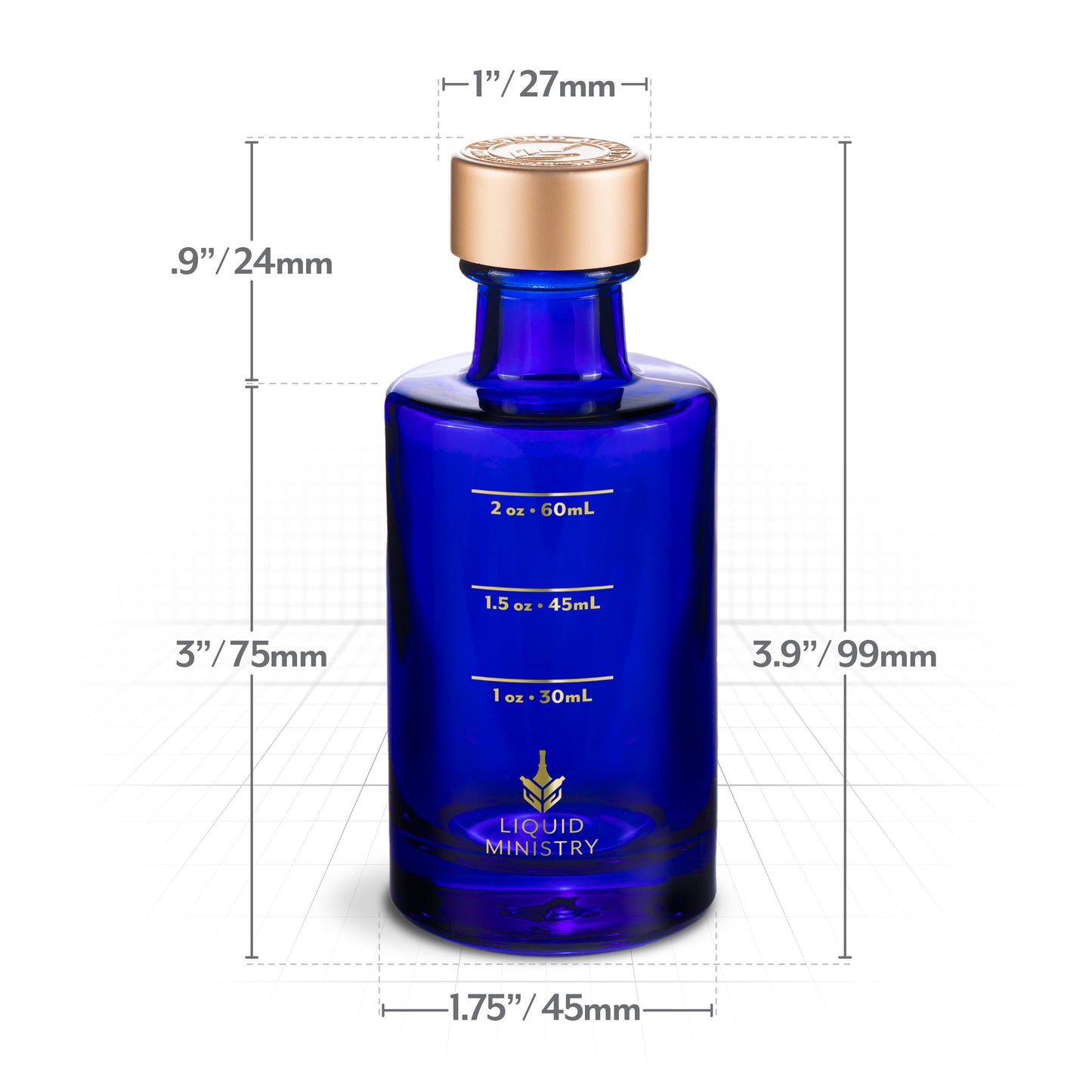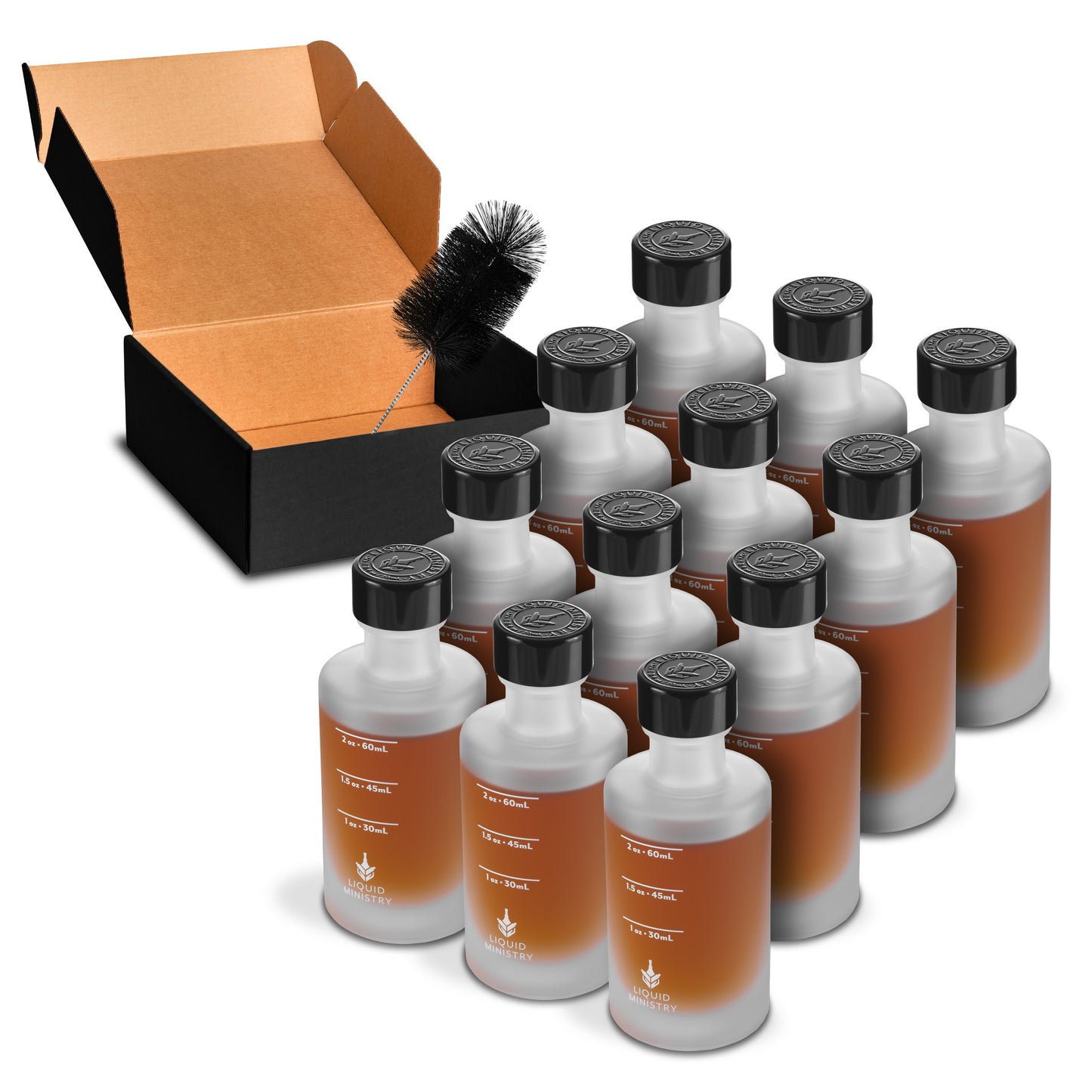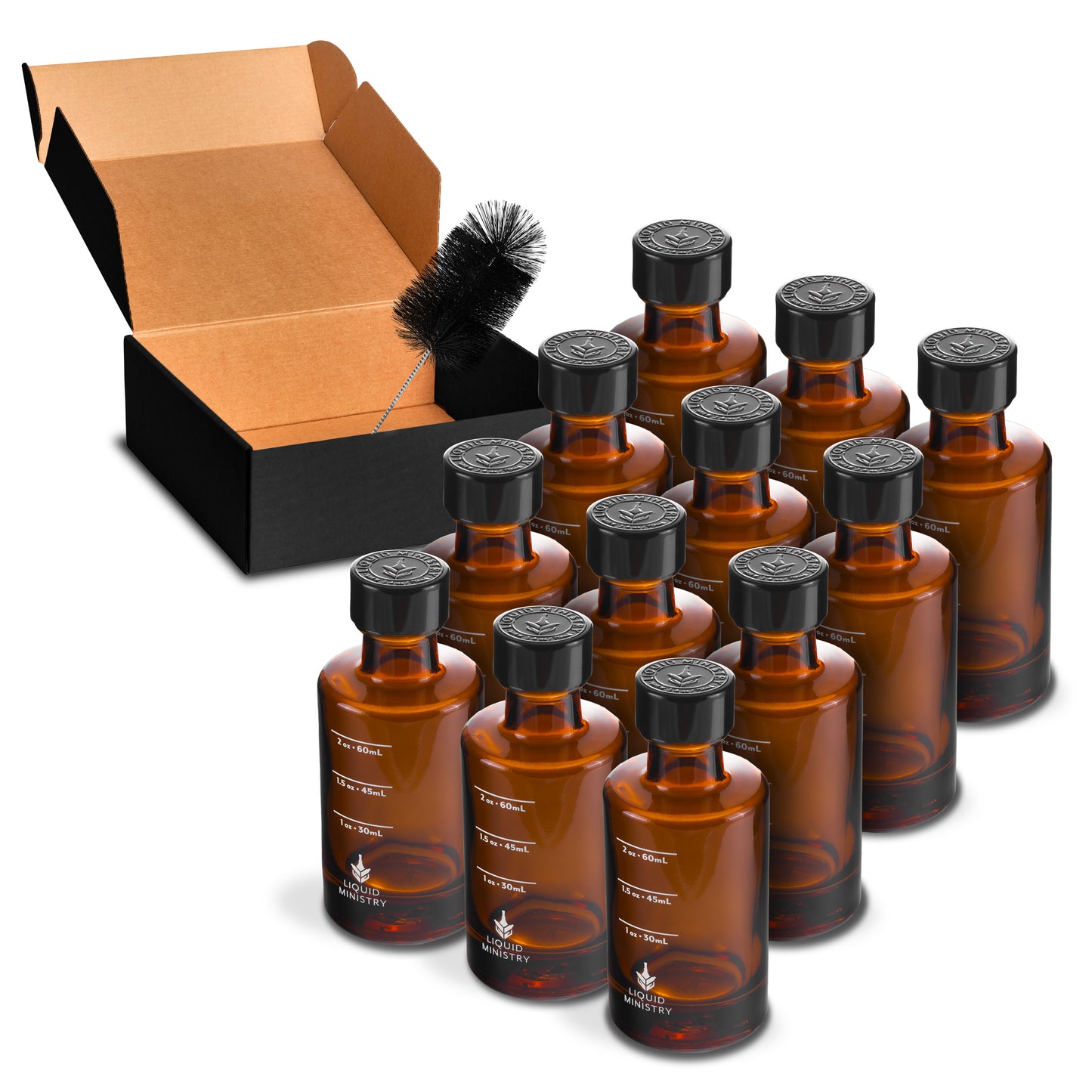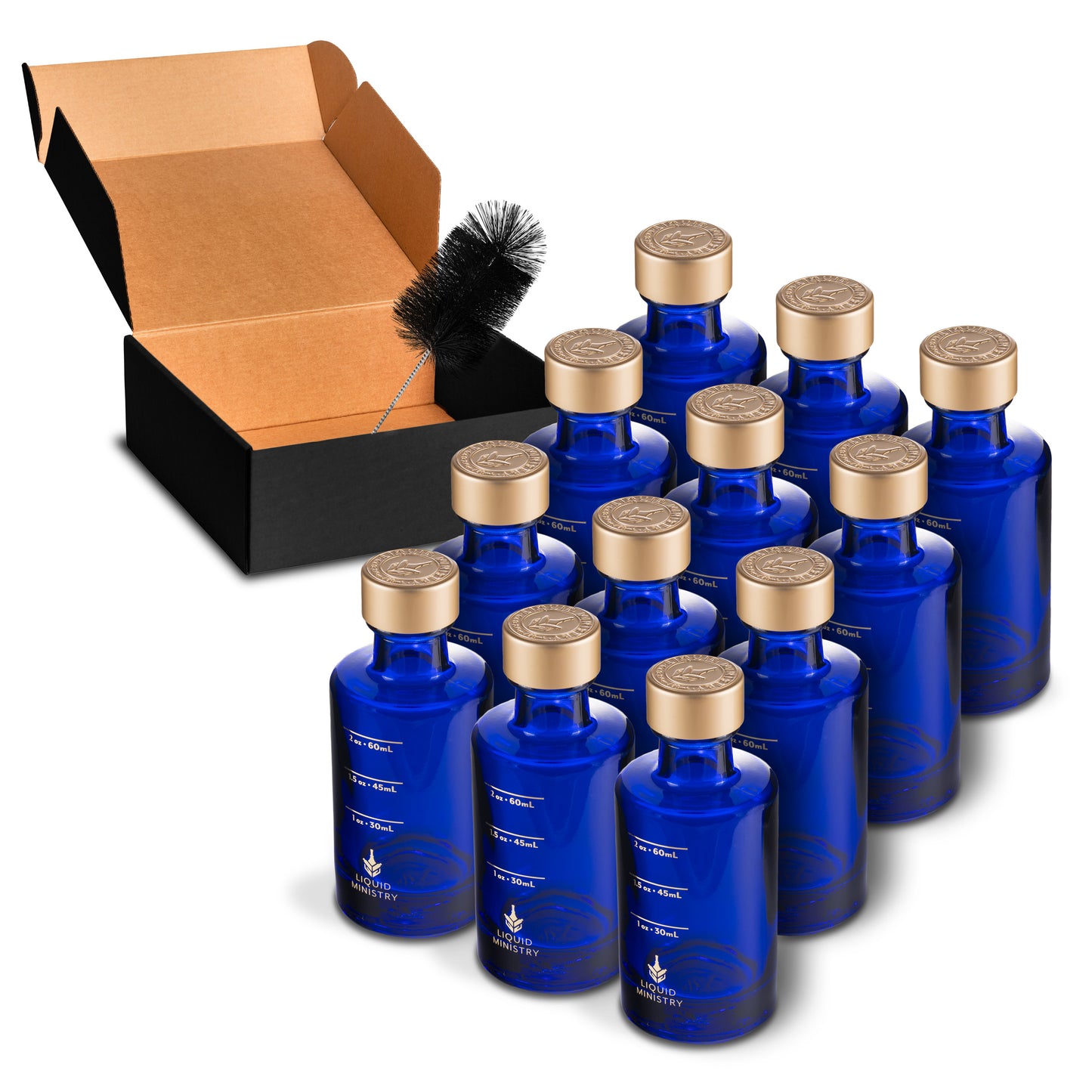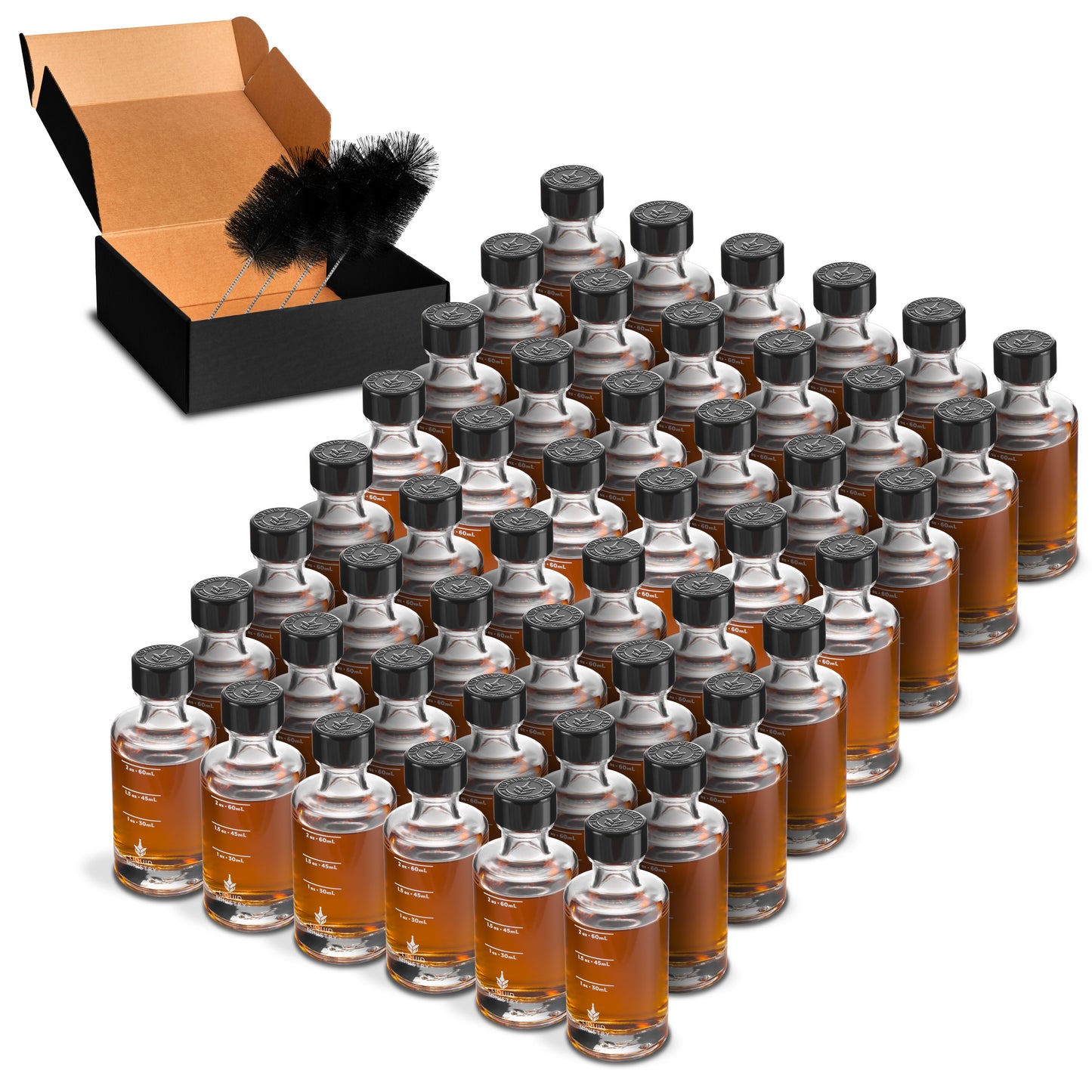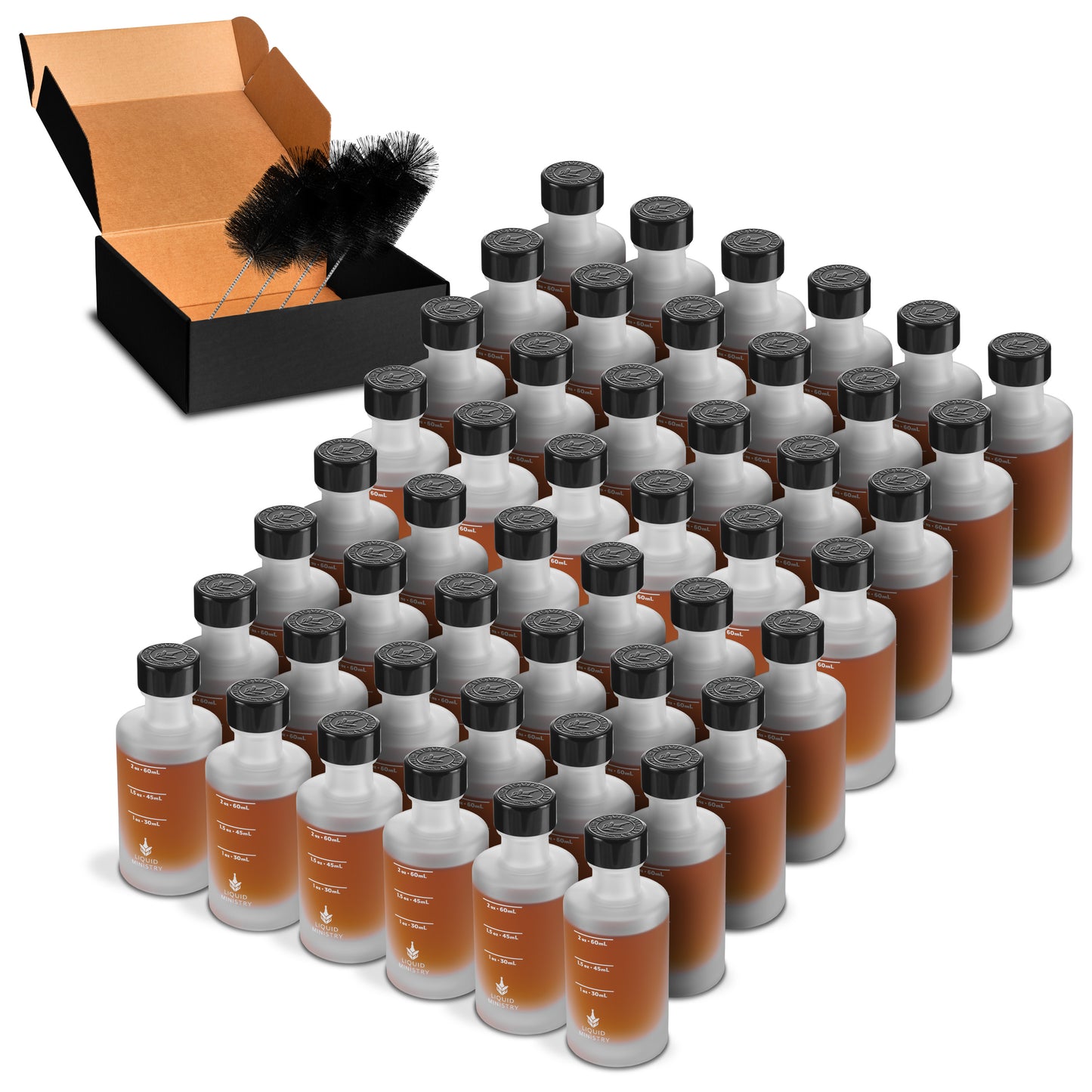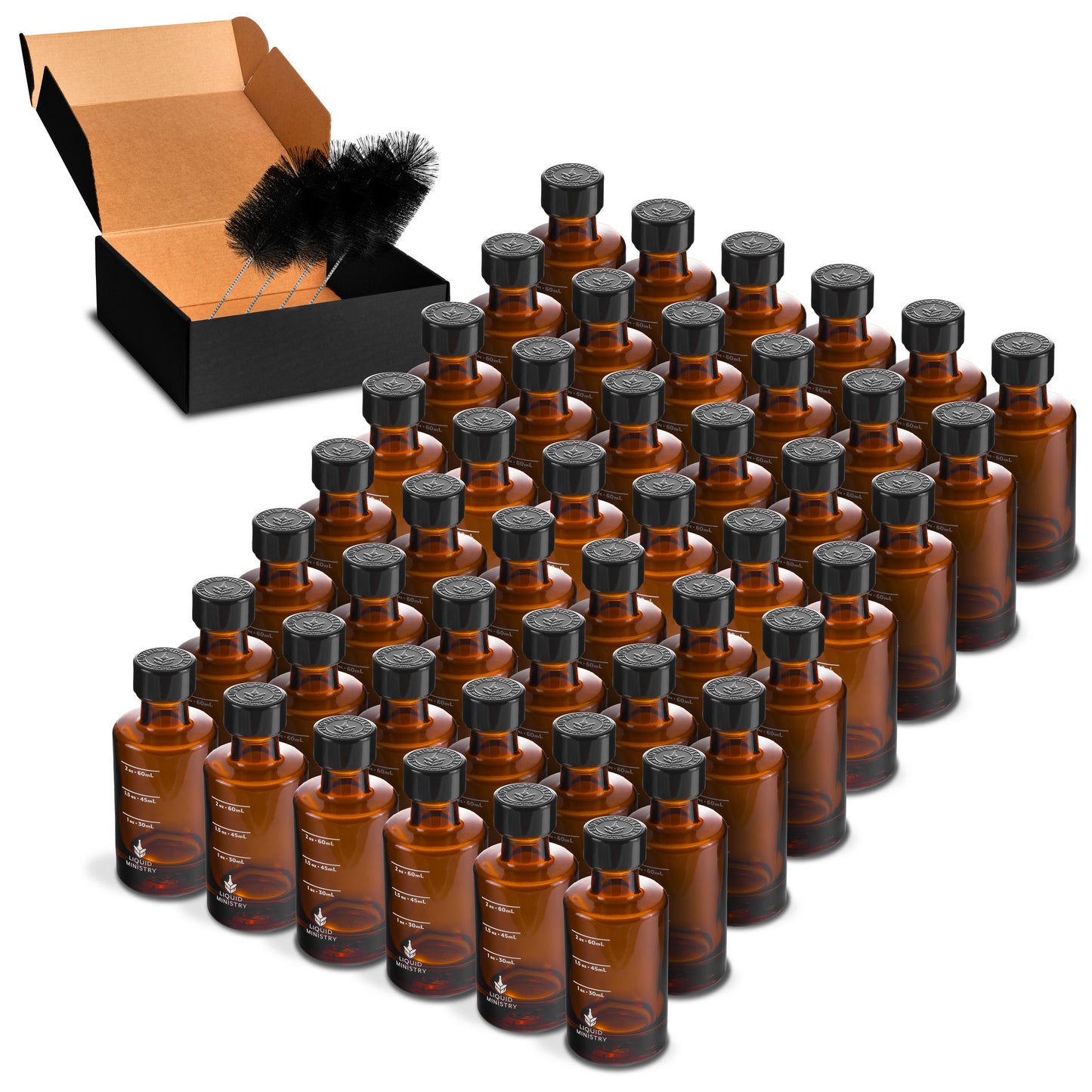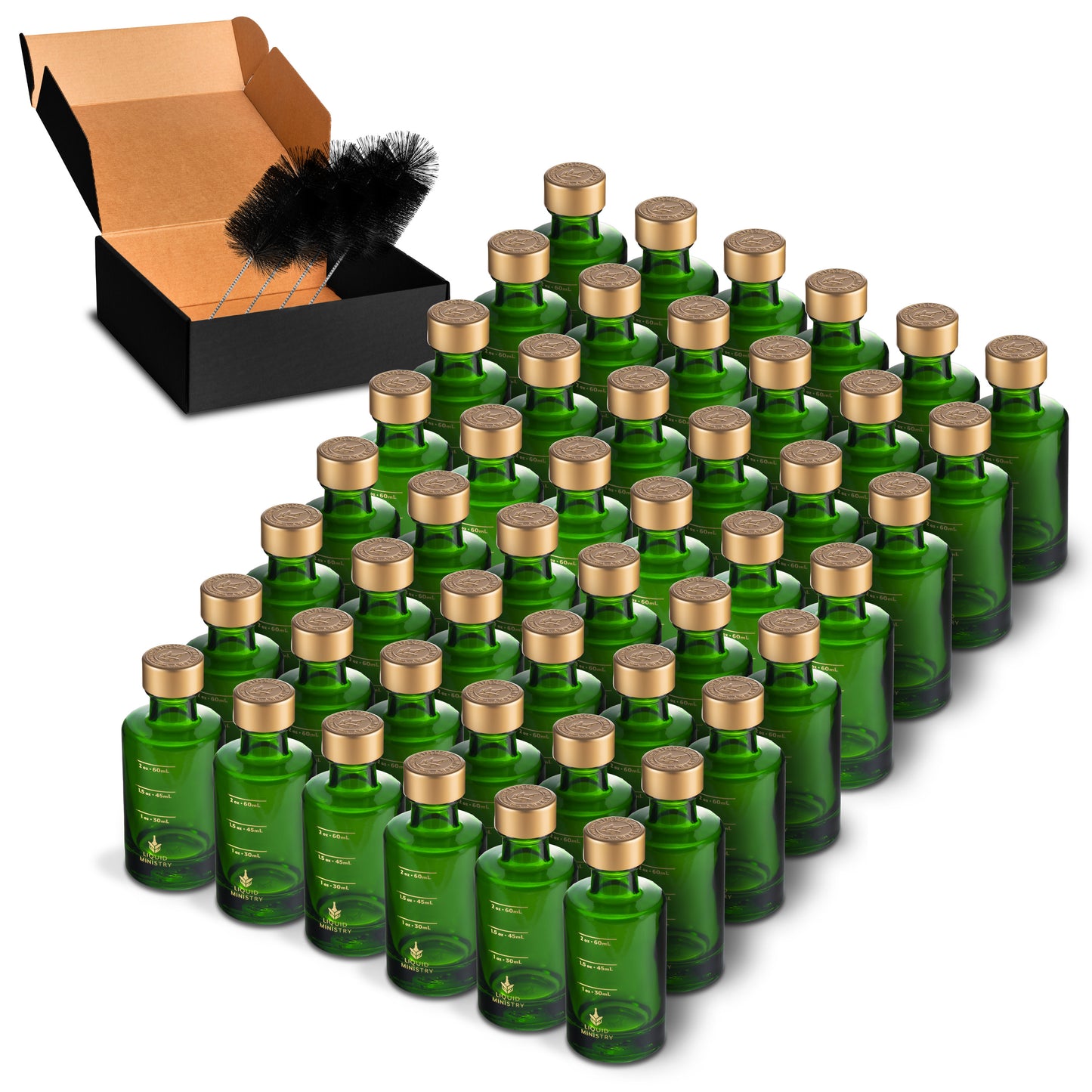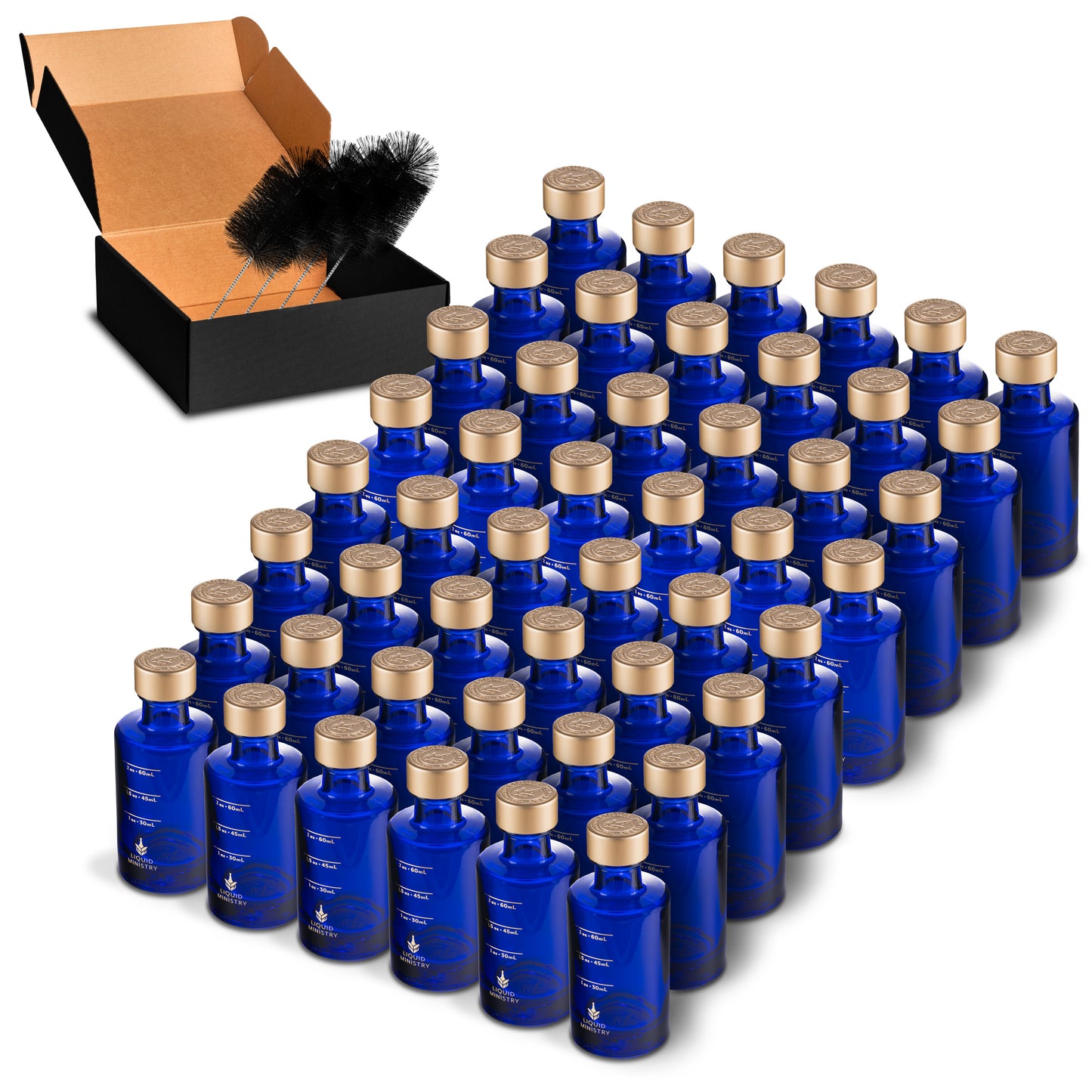 Wide Neck & Secure Cap

Each bottle includes a secure cap with a conical insert for an air and liquid-proof seal. With a wider neck than most sample bottles, it's always easy to fill.

Clear Measurements

Every bottle includes clear measurement lines at 2 oz, 1.5 oz, and 1 oz for quick and simple sampling. Each bottle has a maximum capacity of 2.4 oz.

Multitude of Options

We offer many colors, lids, and accessories, making Liquid Ministry bottles the ultimate choice for your sampling needs.
Frequently Asked Questions
What materials are the bottles made from?

Our bottles are made from unleaded glass with no coating on the neck or inside surface. Our lids are made from food-grade plastic (LDPE) with an aluminum outer shell. The inert cone insert that provides our guaranteed air and watertight seal is made from food-grade LDPE.
What are the dimensions of the bottles

Our 2.4oz/70mL sample bottle dimensions are as follows:

Height (with cap tightened): 3.9"/99mm

Outside diameter: 1.75"/45mm

Cap size: 1"/25mm diameter x .5"/12.5mm high

Neck Opening: 9/16"/15mm
Do you offer customization?
Do you offer wholesale pricing?

Indeed, we do! We'll be thrilled to work with you to supply our sample bottles in larger quantities than the 12packs and 48-packs offered in our standard catalog. You can view pricing and order wholesale quantities on our Wholesale Quantity Listing Page.


At this time, our accessories are priced at quantities up to 144 pieces. For orders larger than that, simply order multiples of 144 based on your desired final quantity.

If our website shows out of stock for your desired quantity, don't hesitate to reach out to use directly at info@liquidminisrtry.com
Can I order sample bottles without the capacity markings?

At this time, we only offer our bottles with capacity markings printed directly on the side using a permanent decoration technique. Because of this, we cannot provide sample bottles without the capacity markings or Liquid Ministry branding.
Are Liquid Ministry bottles dishwasher safe?

Liquid Ministry glass bottles are 100% dishwasher safe. However, the lids are not safe for dishwashers due to their multi-piece design. Please be sure to remove the lids before placing your bottles in the wash.