Share This Product
Regular price
Sale price
$29.99
Unit price
per
Sale
Sold out
Looking to share or gift your favorite spirit in style? Our Glencairn Glass and Liquid Ministry bottle sampling set is the perfect choice. Presented in a fabric-lined Glencairn gift box, this set provides the ultimate presentation for the finest whiskeys or spirits. There's no better way to present an unparalleled tasting experience!
Each set includes a genuine tasting glass from Glencairn Crystal Studio, a Liquid Ministry 2.4 oz sample bottle in the color of your choice, and a fabric-lined Glencairn gift box.

The Glencairn Glass is the world's favorite whisky glass. Selling over five million glasses a year, used by hundreds of distilleries and millions of people around the world, the glass is a Queen's Award winner for Innovation.
View full details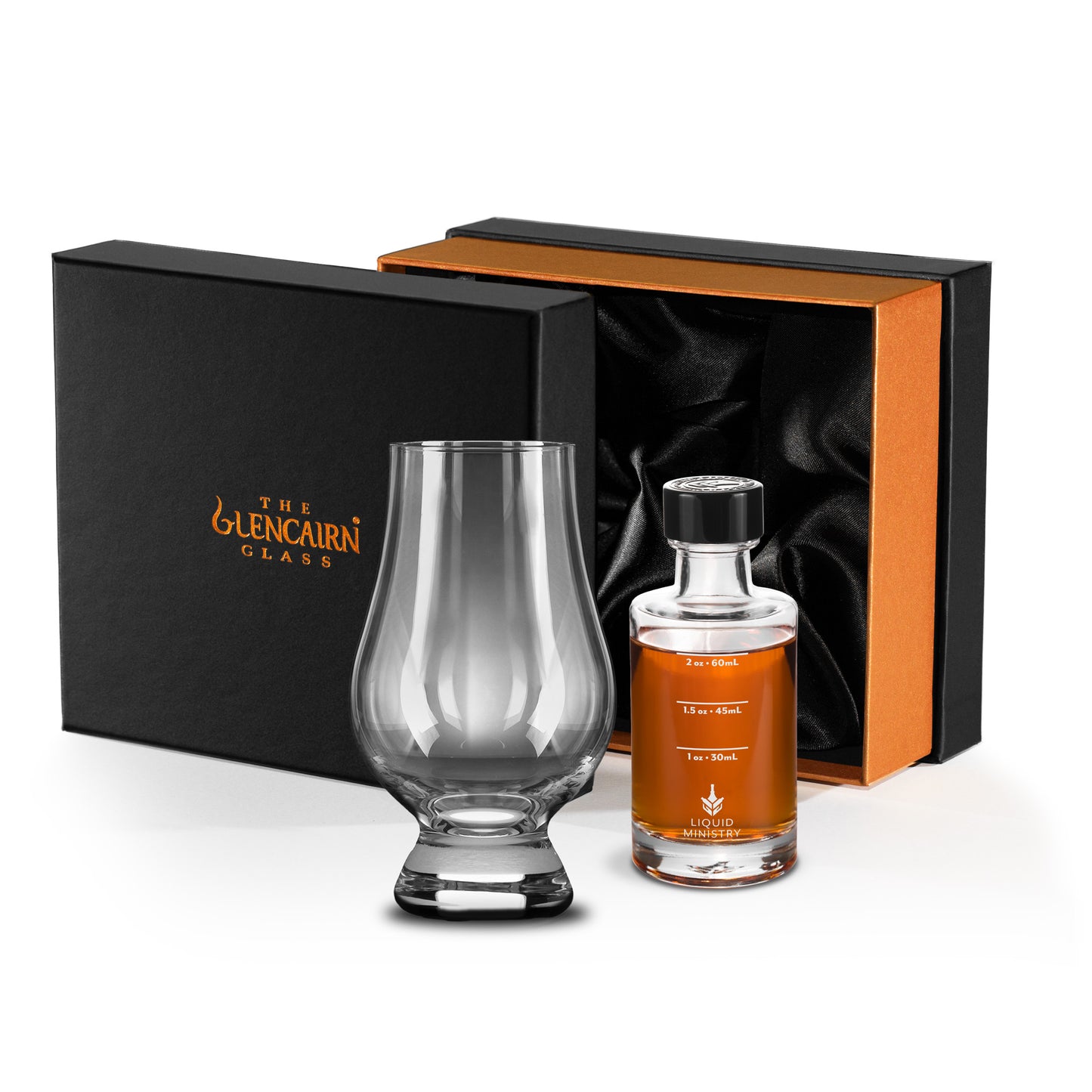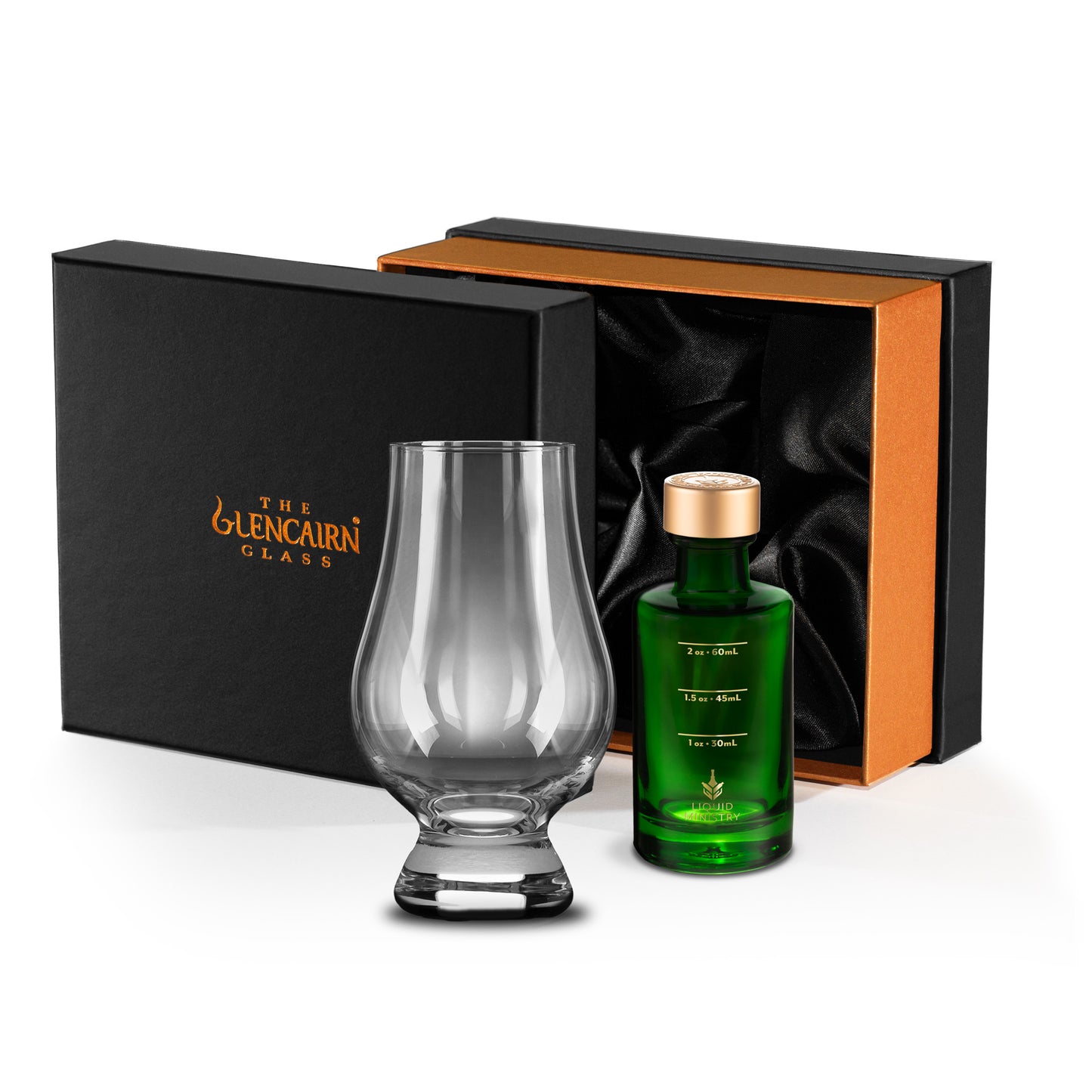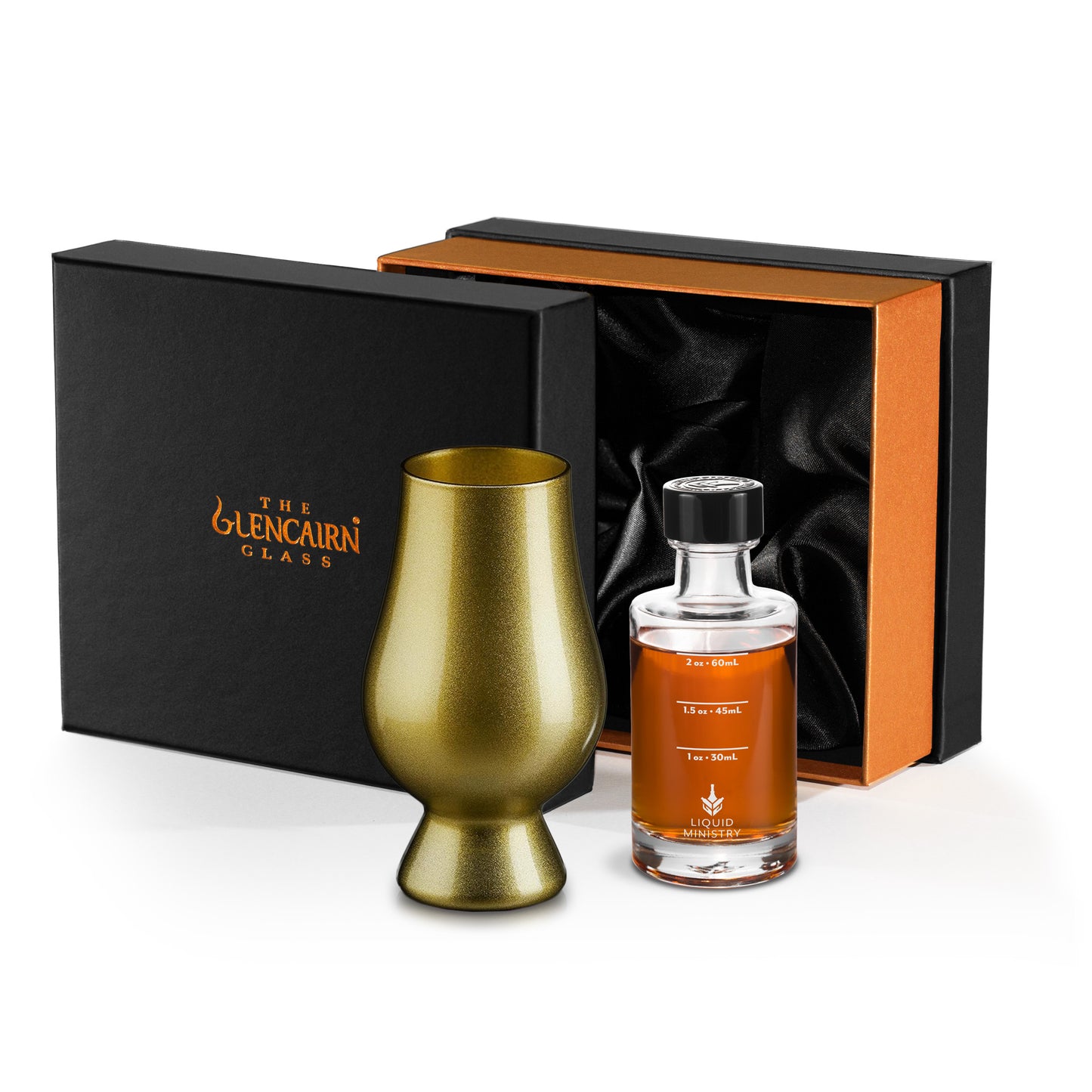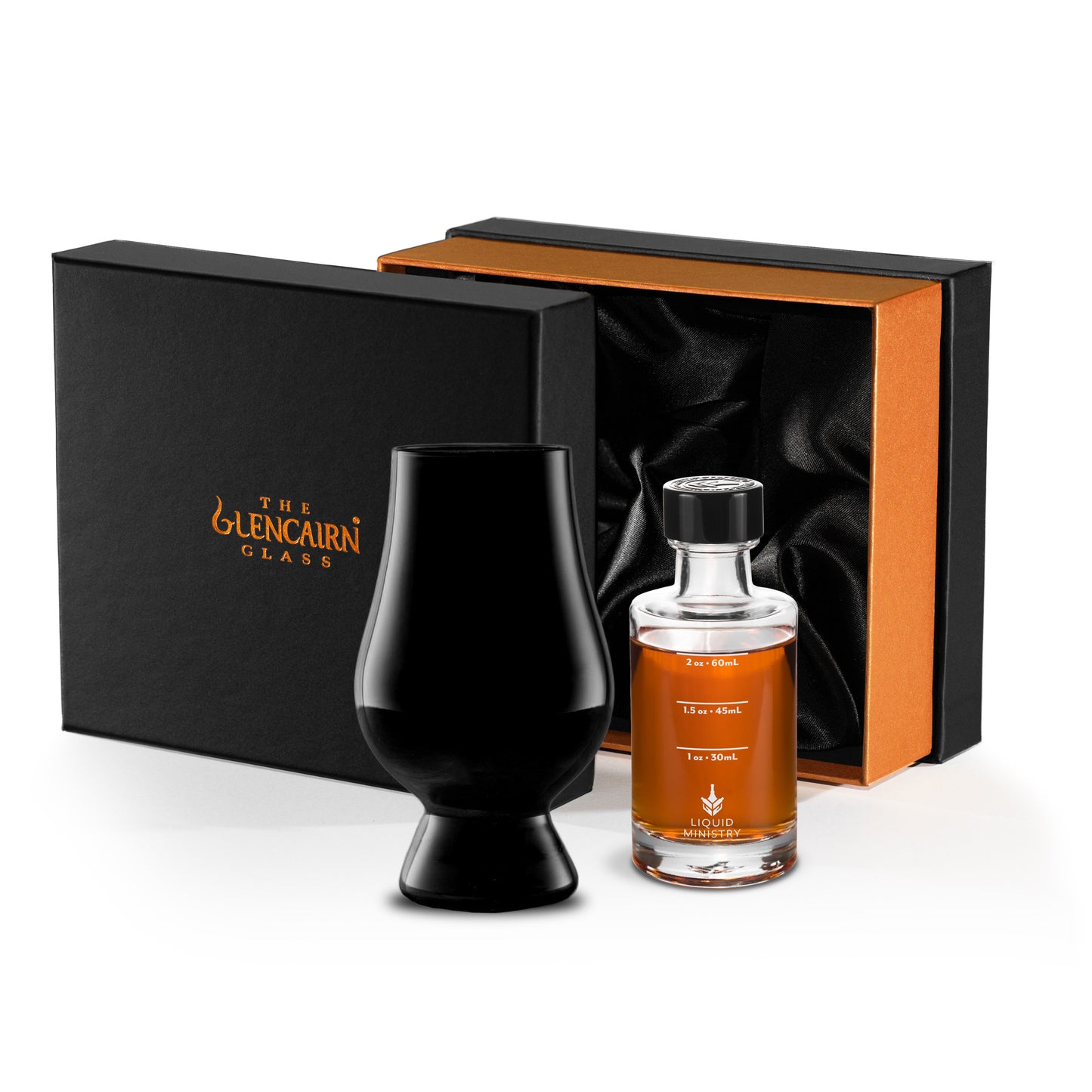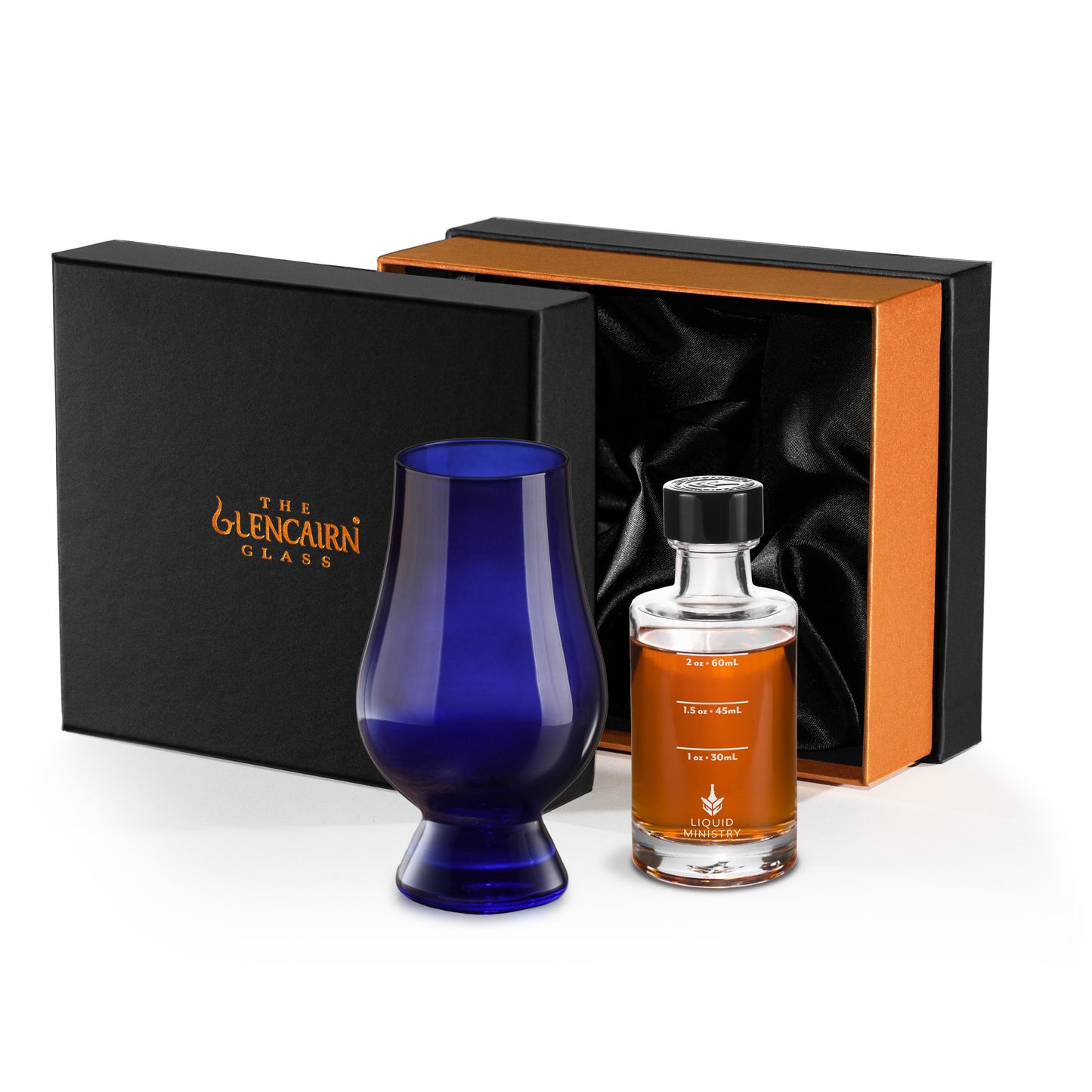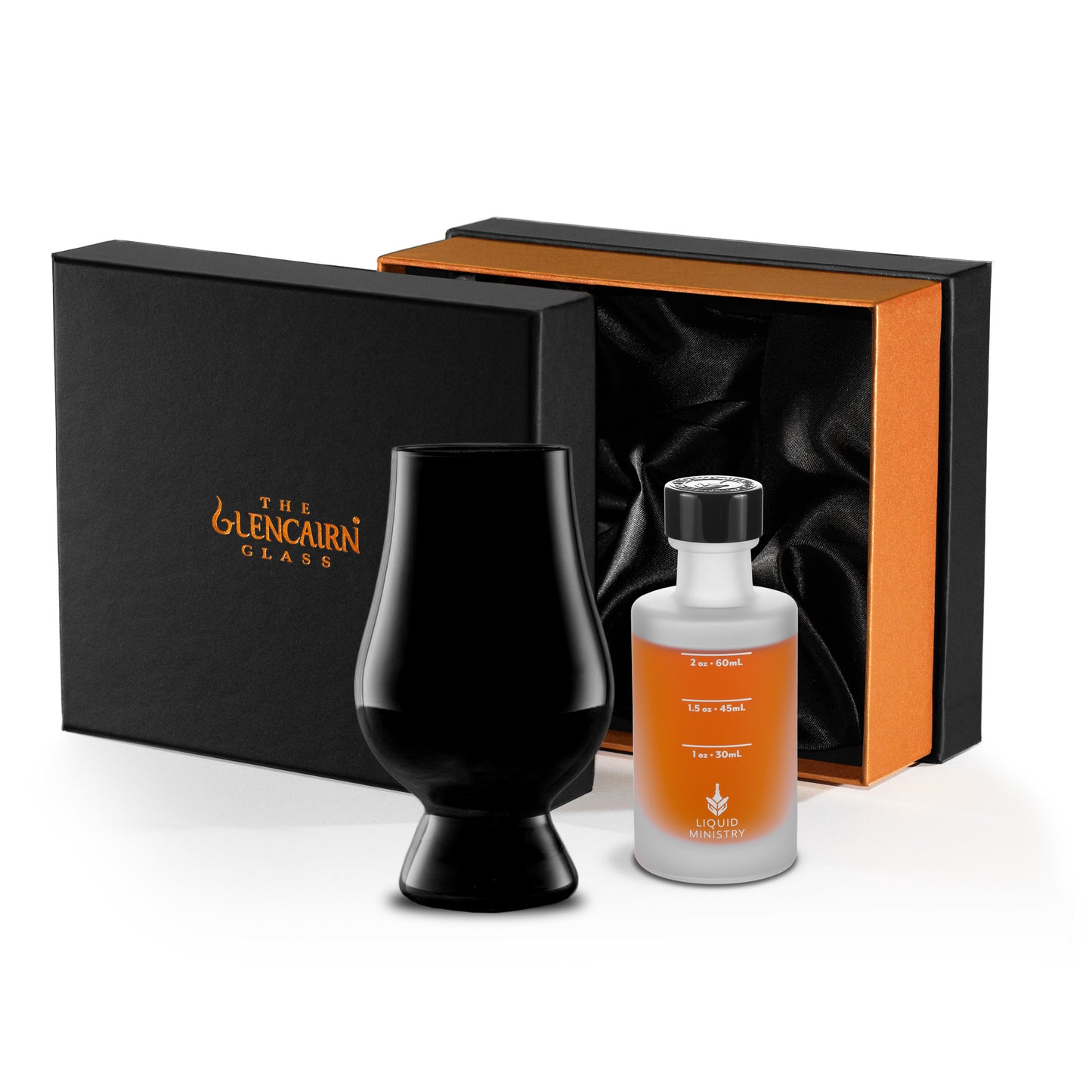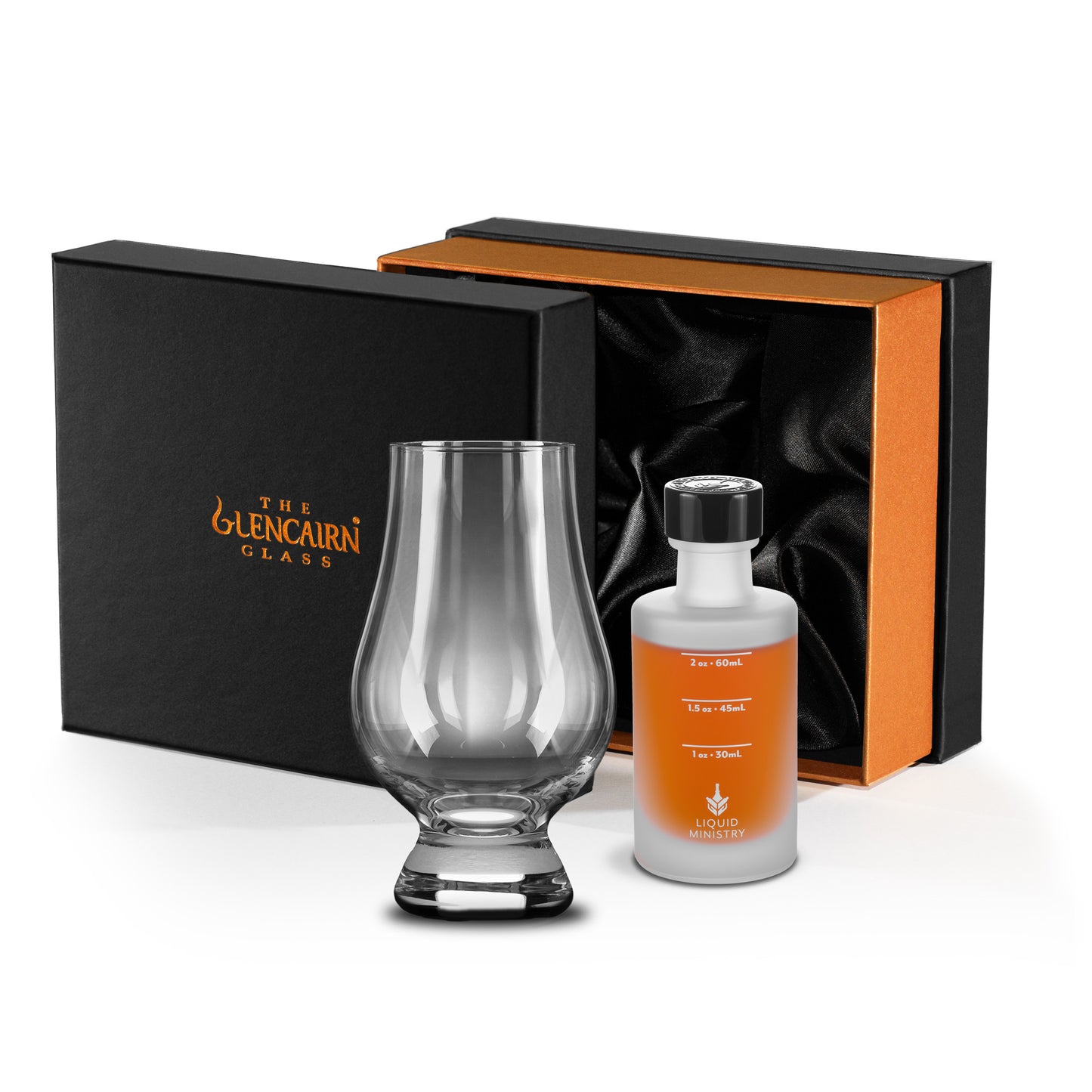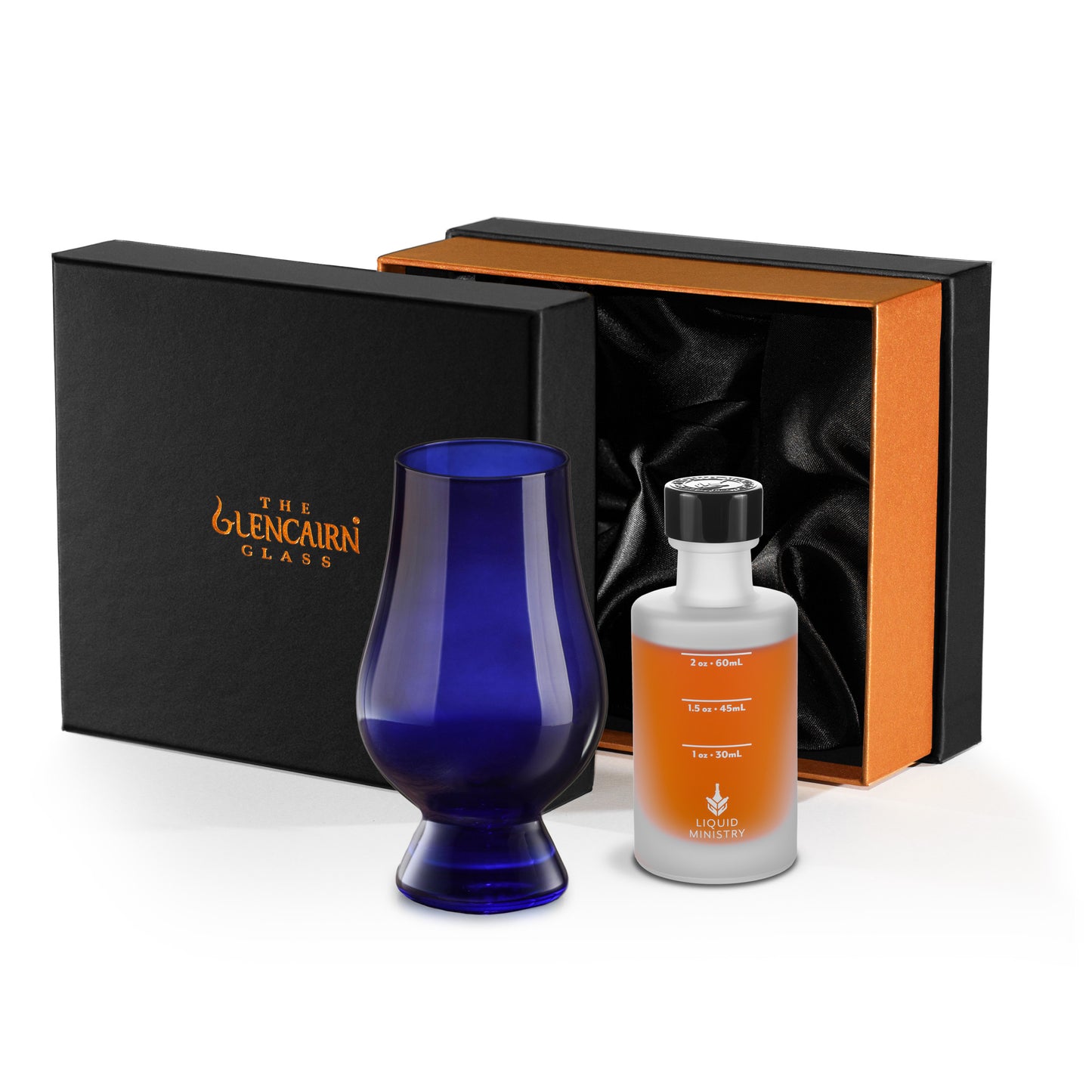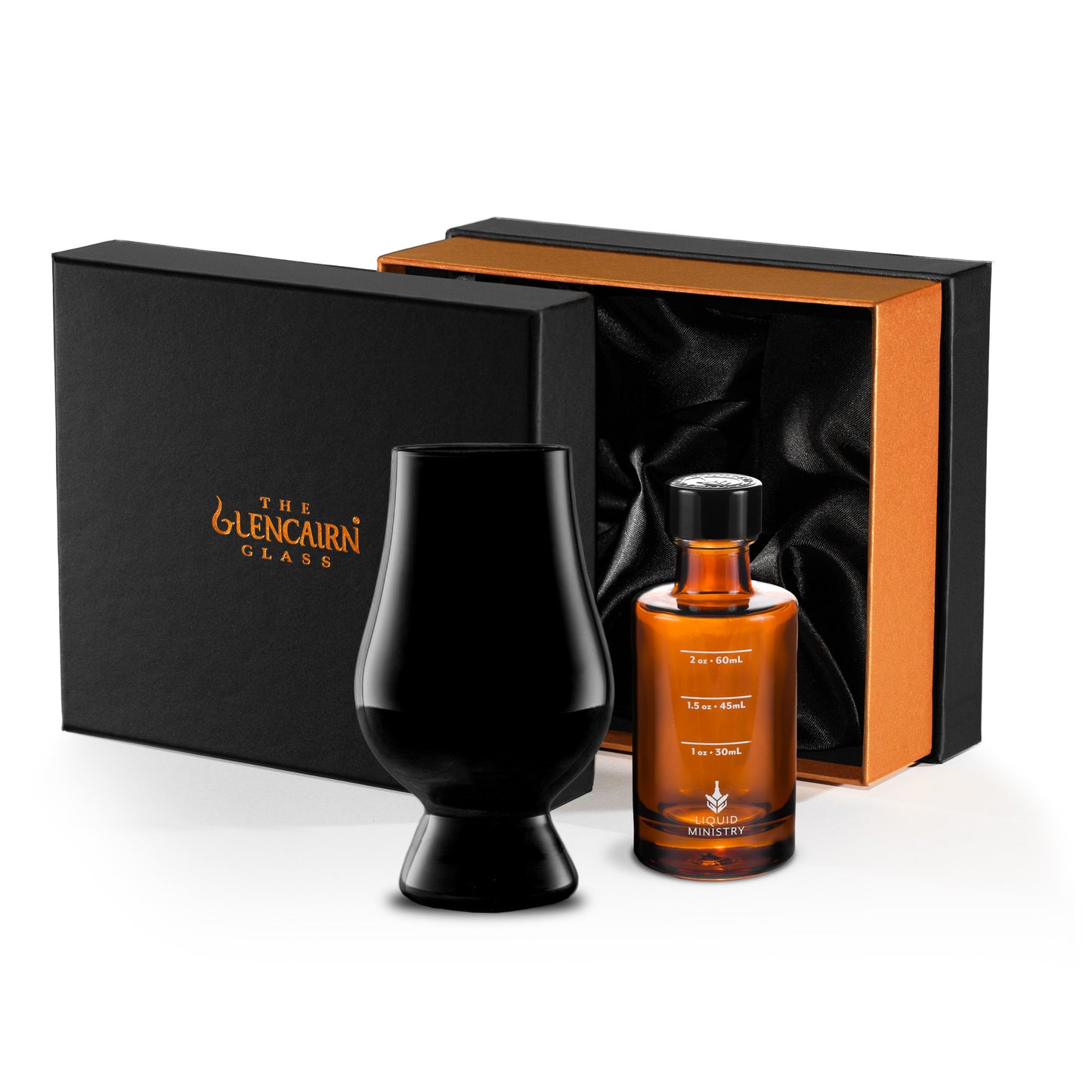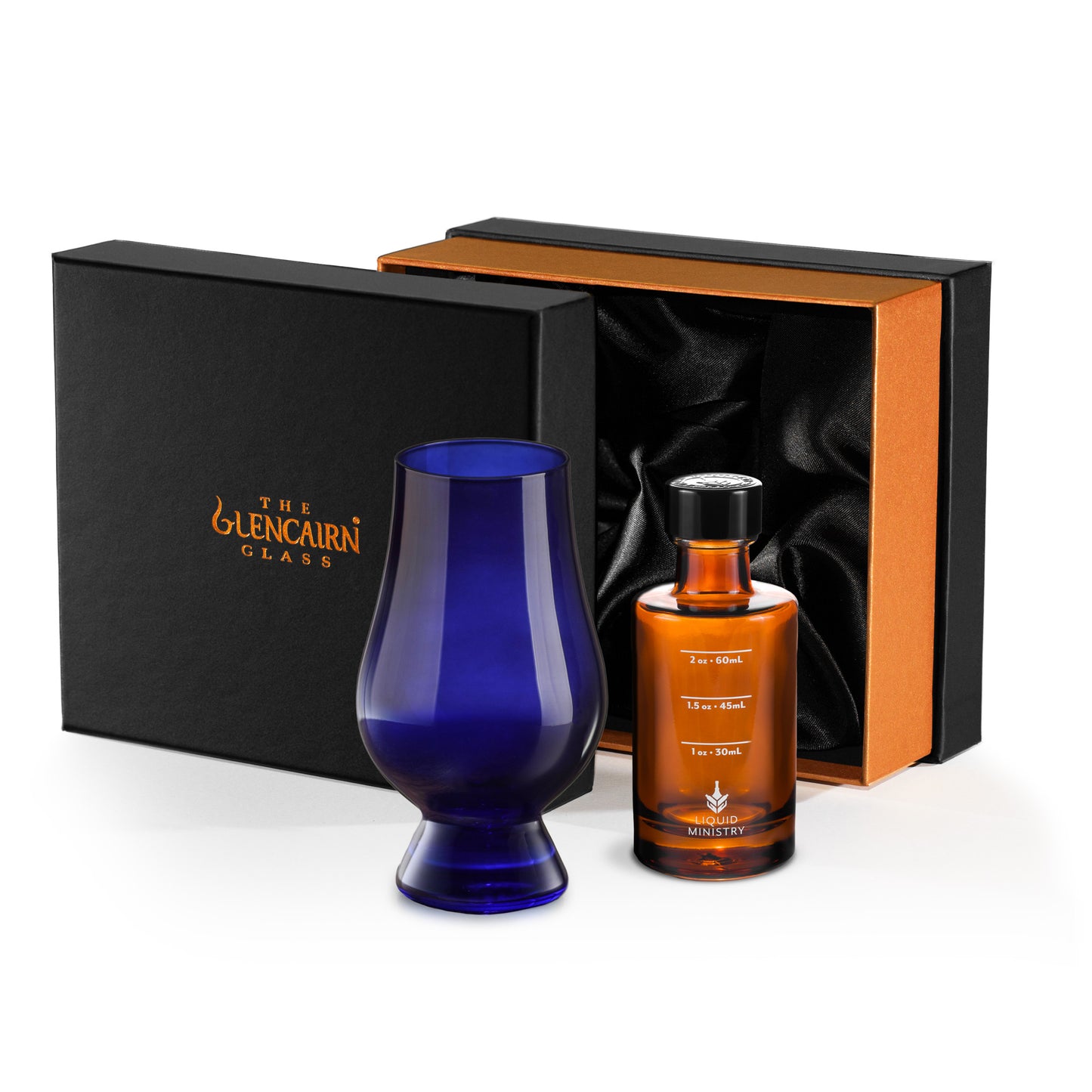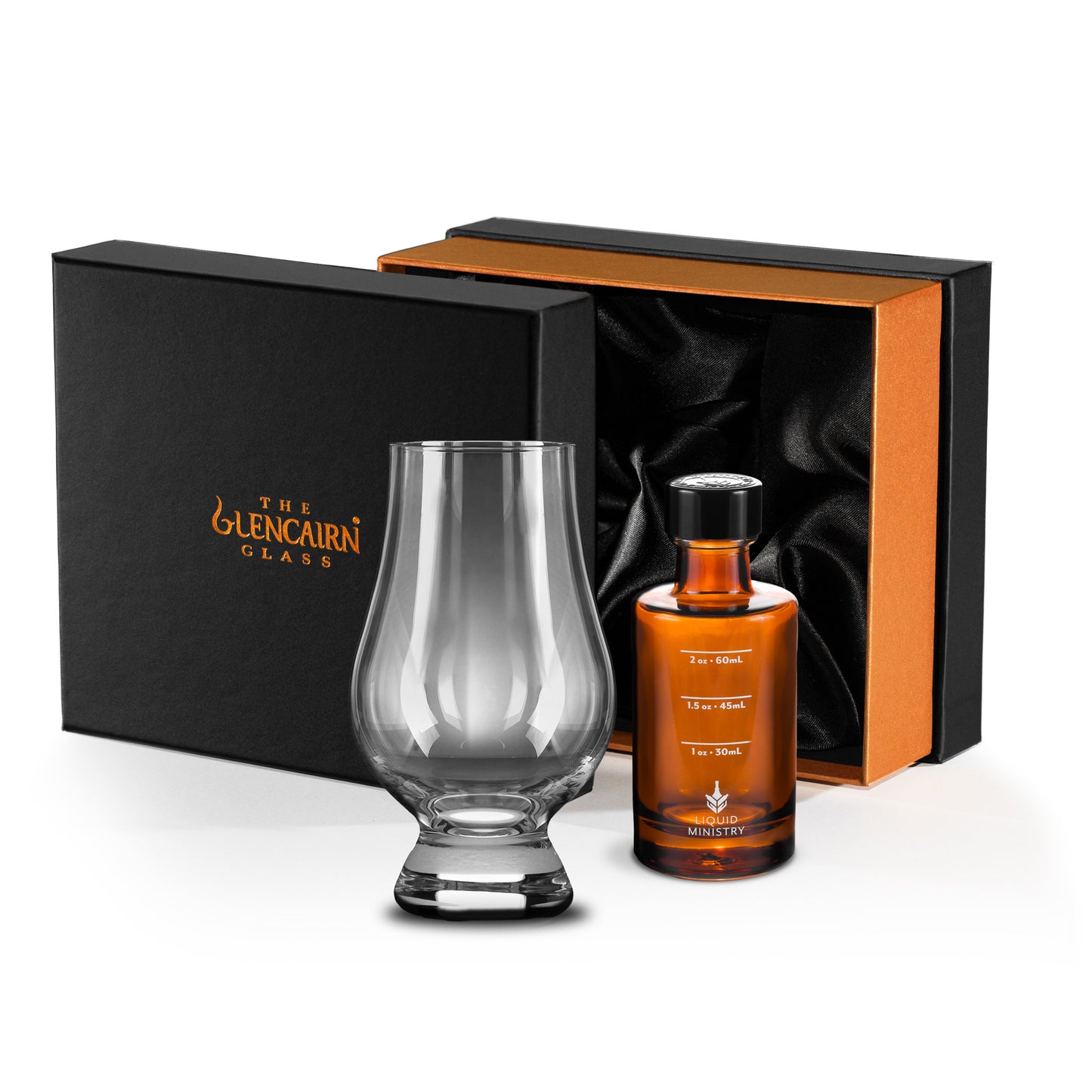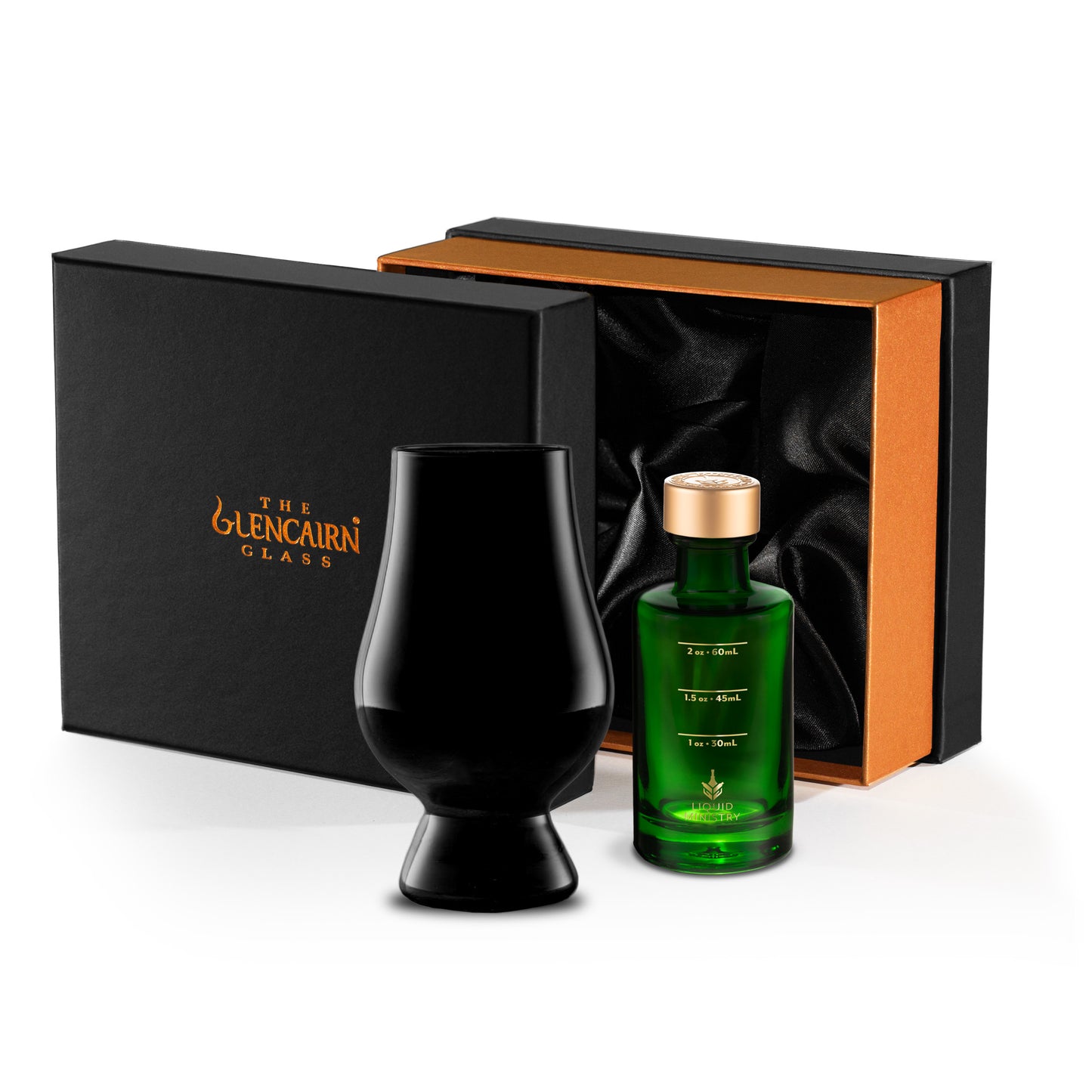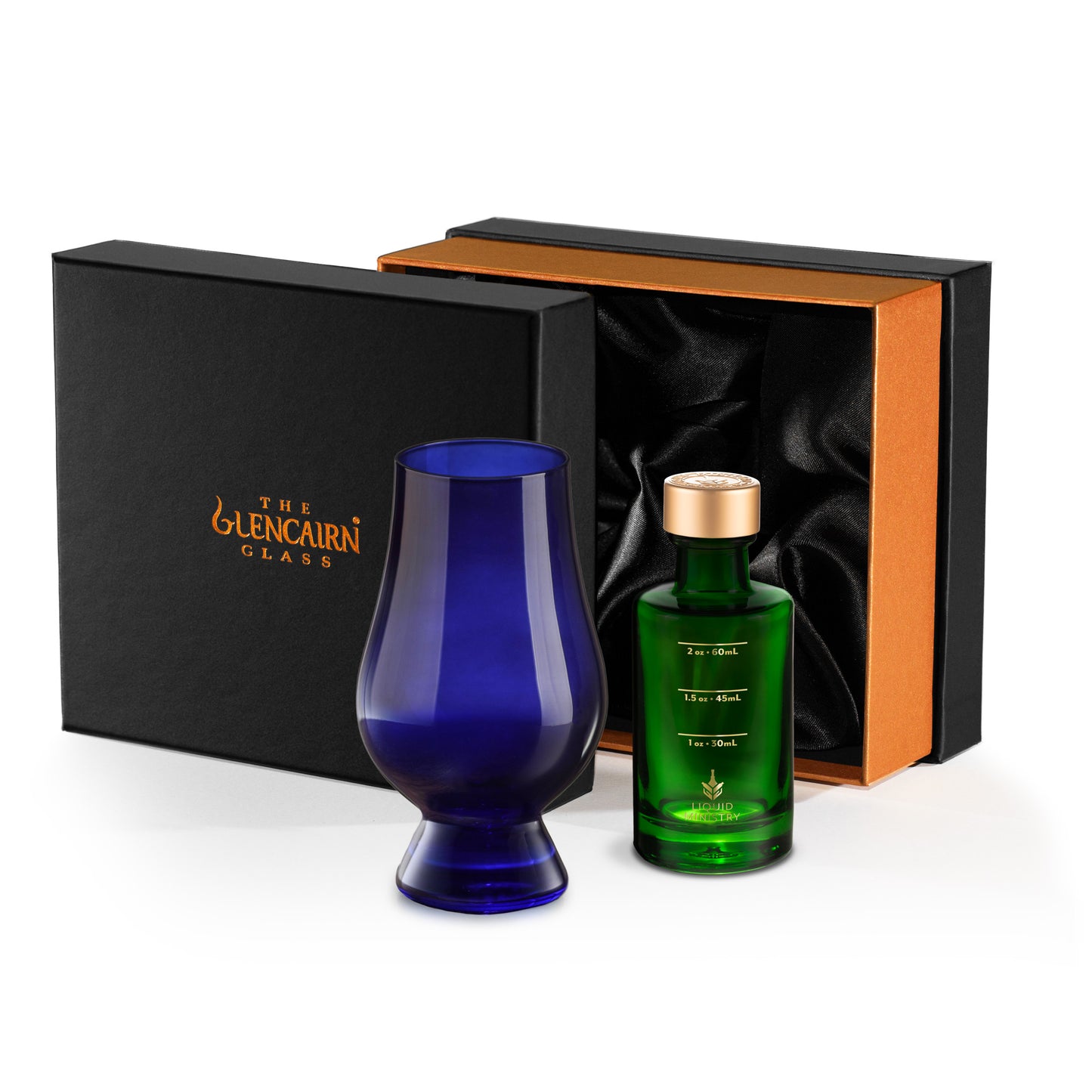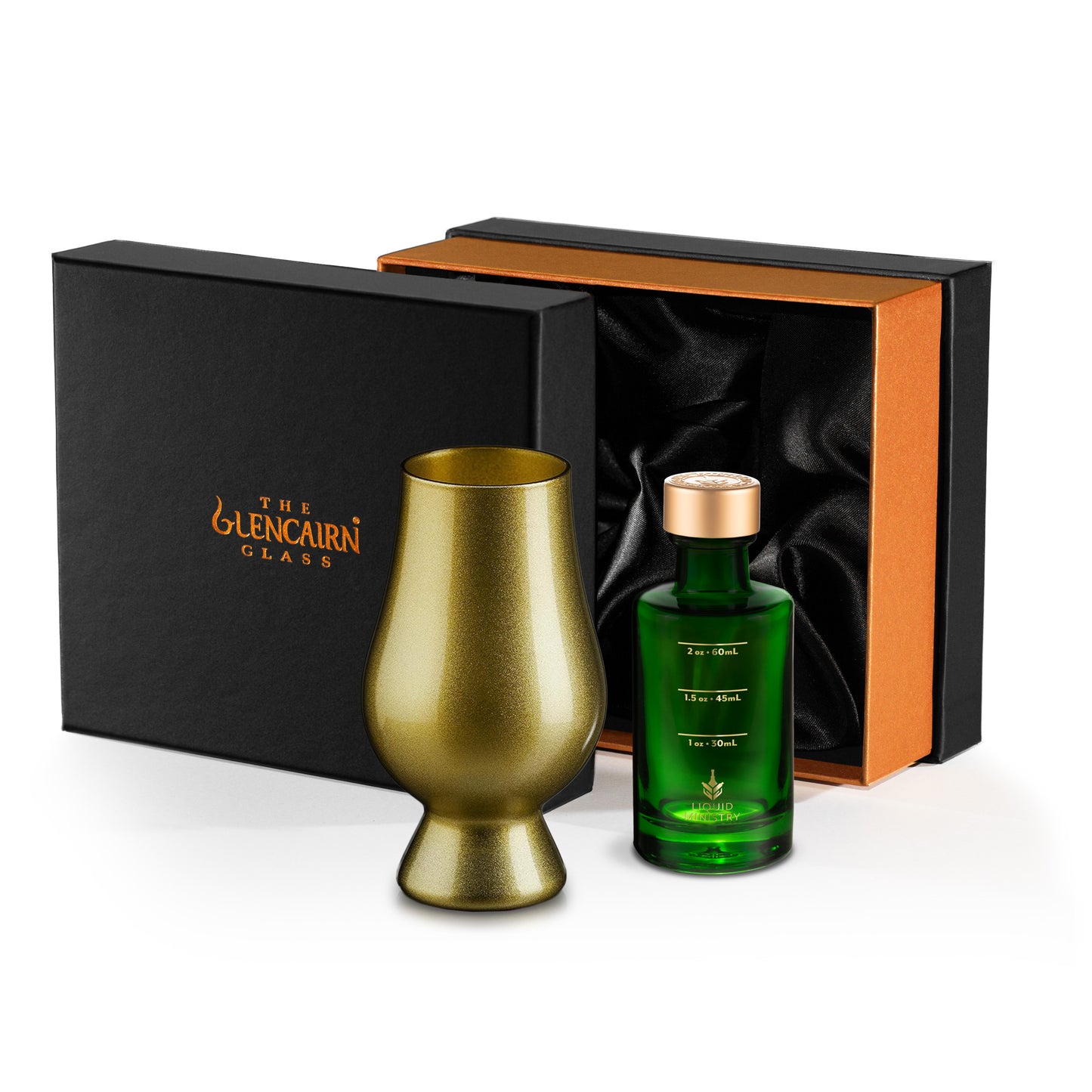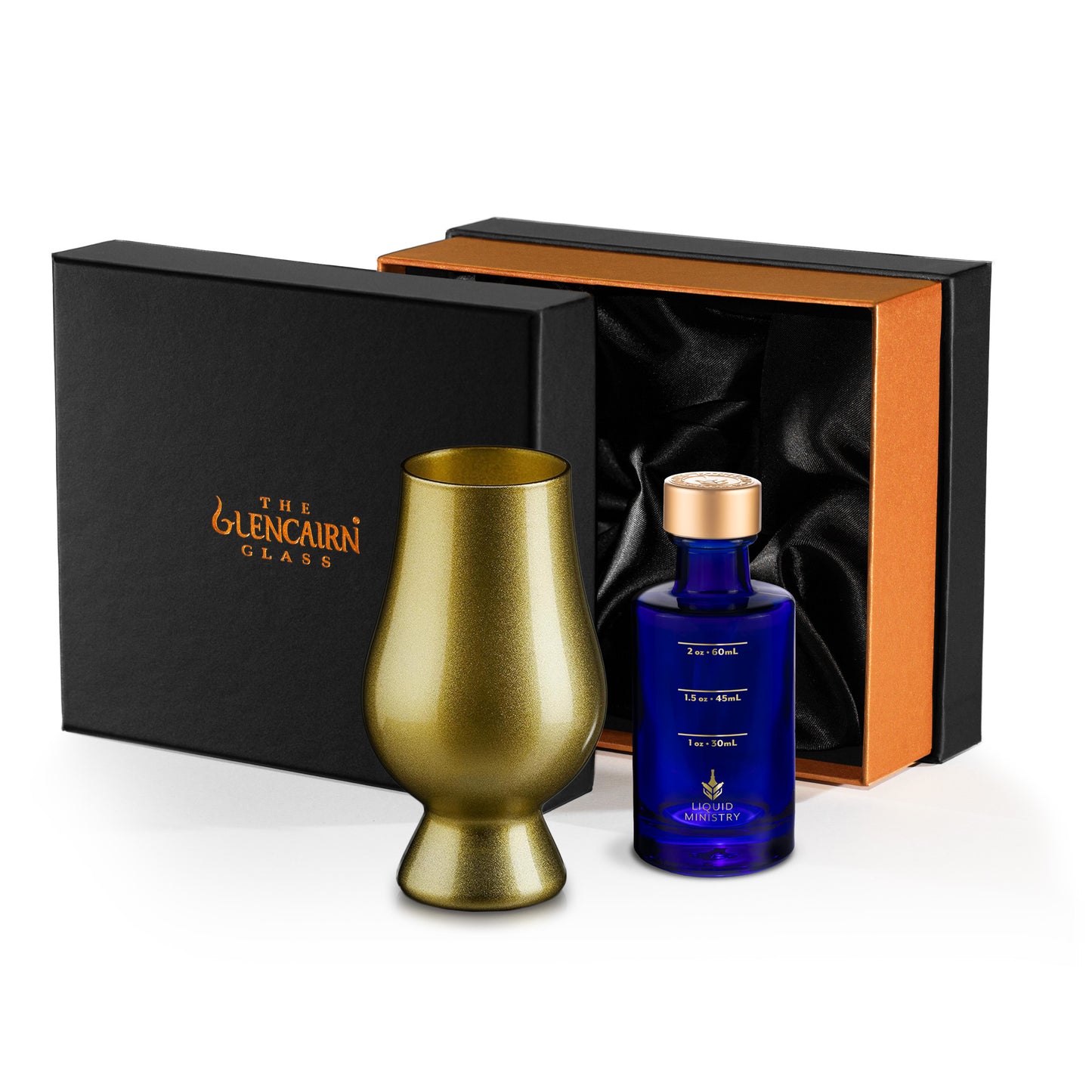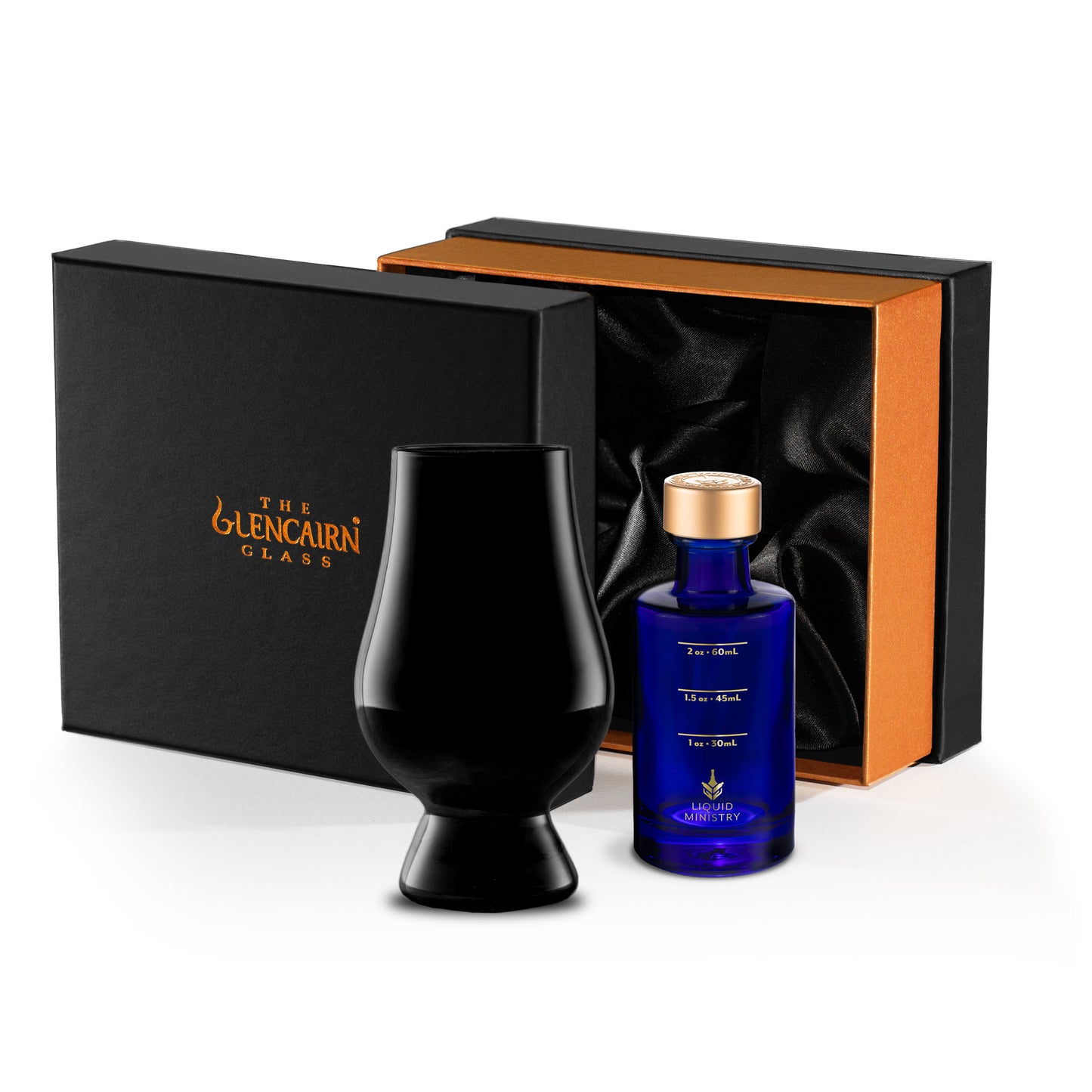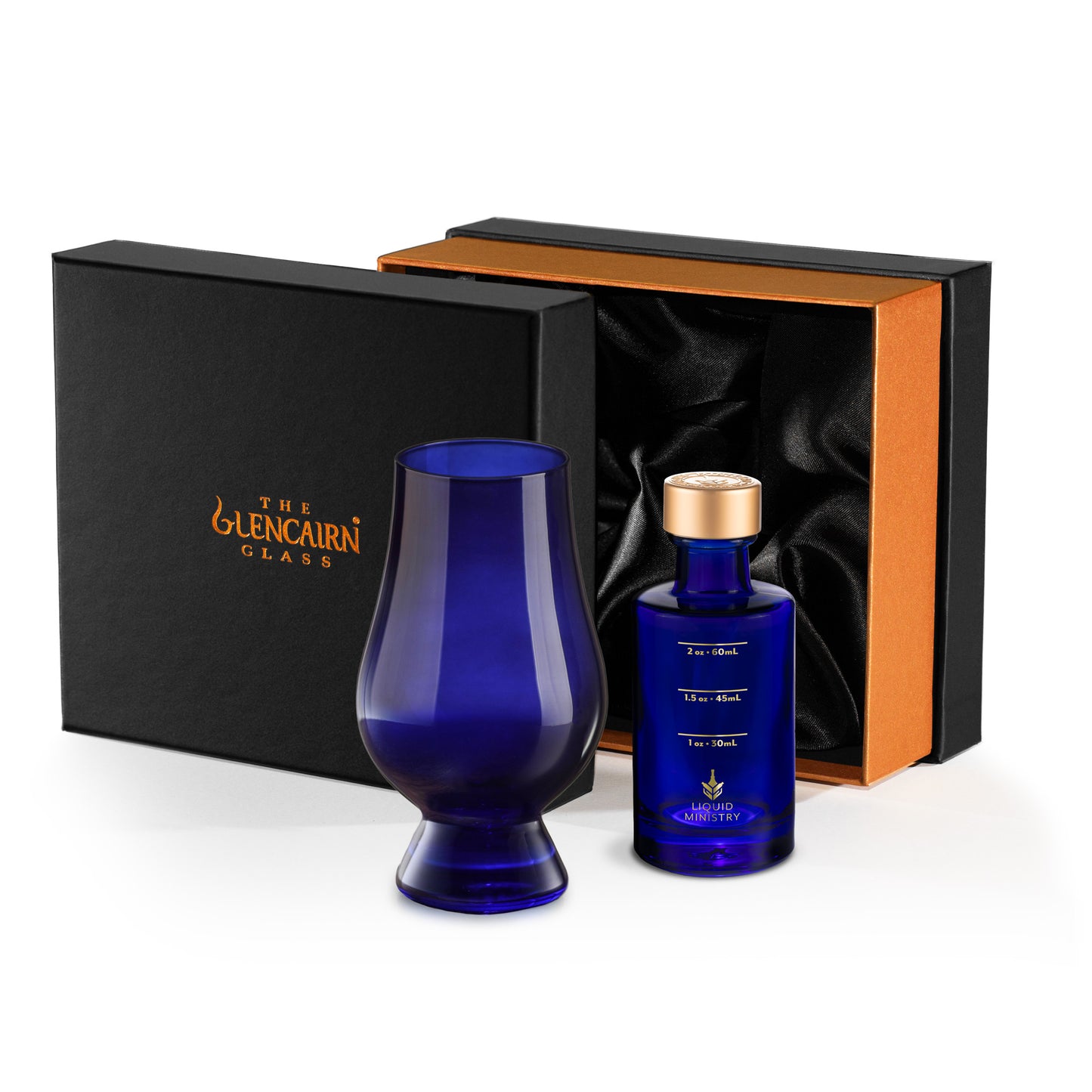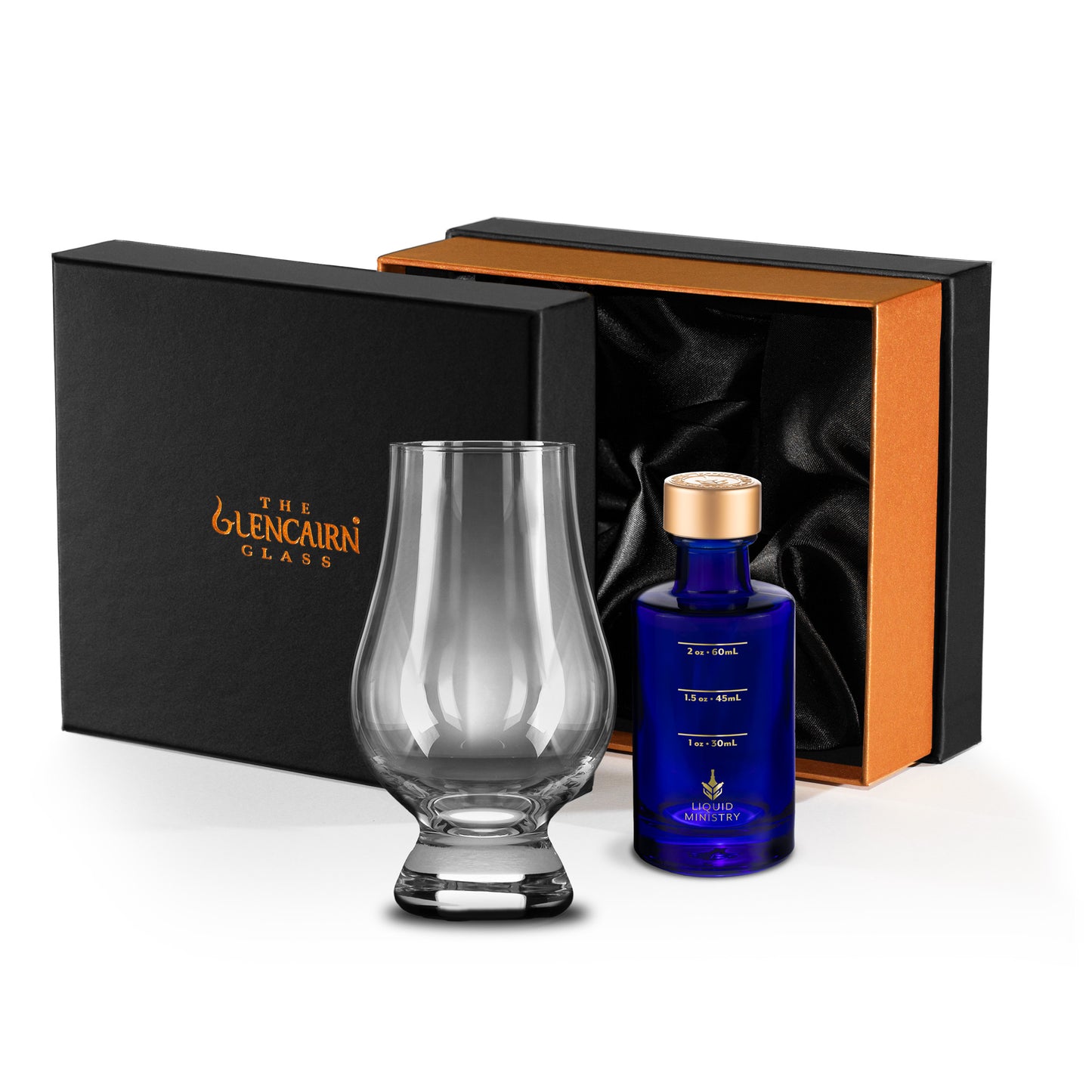 The Original Glencairn Glass + Intentional Sample Bottles
Story Of The Glass

Selling over five million glasses a year, used by hundreds of distilleries and millions of people around the world, the glass is a Queen's Award winner for Innovation.

About Glencairn Crystal Studio

Glencairn Crystal is the company behind The Glencairn Glass. Based in Scotland, for over four decades, they are a family business built on a commitment to personal service and quality workmanship.

In The Beginning

In the long history of whiskey there had never been a single definitive glass that the whiskey world could call its own. Glencairn Crystal took it upon themselves to address the issue and designed a glass specifically for the whiskey drinker.
Liquid Ministry Bottles F.A.Q.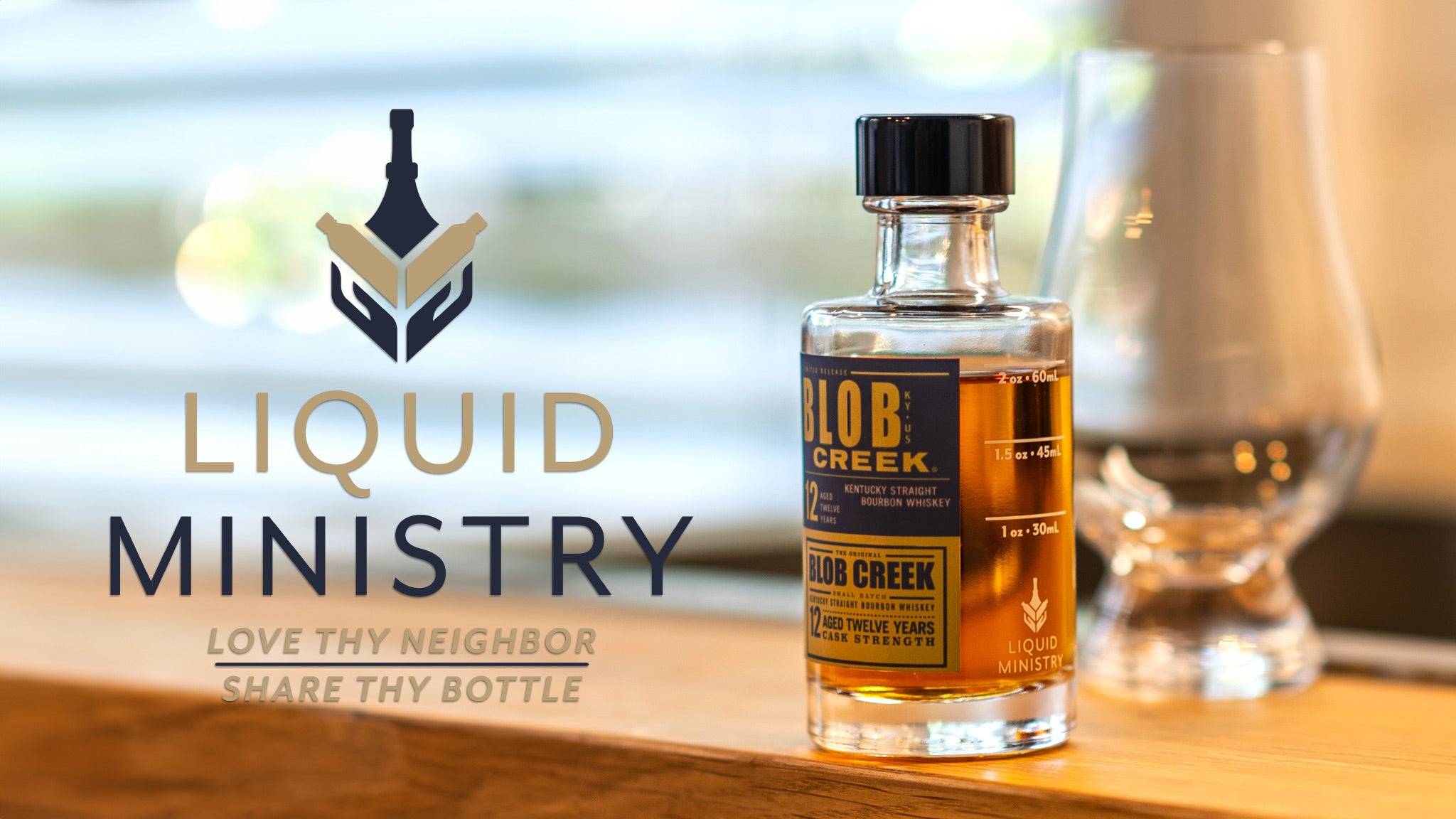 What materials are the bottles made from?

Our bottles are made from unleaded glass with no coating on the neck or inside surface. Our lids are made from food-grade plastic (LDPE) with an aluminum outer shell. The inert cone insert that provides our guaranteed air and watertight seal is made from food-grade LDPE.
What are the dimensions of the bottles

Our 2.4oz/70mL sample bottle dimensions are as follows:

Height (with cap tightened): 3.9"/99mm

Outside diameter: 1.75"/45mm

Cap size: 1"/25mm diameter x .5"/12.5mm high

Neck Opening: 9/16"/15mm
Do you offer customization?
Do you offer wholesale pricing?

Indeed, we do! We'll be thrilled to work with you to supply our sample bottles in larger quantities than the 12packs and 48-packs offered in our standard catalog. You can view pricing and order wholesale quantities on our Wholesale Quantity Listing Page.


At this time, our accessories are priced at quantities up to 144 pieces. For orders larger than that, simply order multiples of 144 based on your desired final quantity.

If our website shows out of stock for your desired quantity, don't hesitate to reach out to use directly at info@liquidminisrtry.com
Can I order sample bottles without the capacity markings?

At this time, we only offer our bottles with capacity markings printed directly on the side using a permanent decoration technique. Because of this, we cannot provide sample bottles without the capacity markings or Liquid Ministry branding.
Are Liquid Ministry bottles dishwasher safe?

Liquid Ministry glass bottles are 100% dishwasher safe. However, the lids are not safe for dishwashers due to their multi-piece design. Please be sure to remove the lids before placing your bottles in the wash.
The Glencairn Glass F.A.Q.
Why It Works

COLOR - The wide crystal bowl allows for a full appreciation of the whiskey's color, which can indicate age, cask type, or other factors that contribute to the flavor profile.
NOW - The tapering mouth captures and focuses the aroma on the nose, enhancing the experience of detecting subtle notes of vanilla, smoke, fruit, or spice.
BODY - The unique patented shape of the glass is designed to admire the texture, viscosity, and legs of the whisky as it swirls around.
PALATE - The glass fits comfortably in the hand and allows the whisky to develop over time, revealing new layers of flavor and aroma.
FINISH - Adding a few drops of water can open up the whiskey and release its hidden flavors. The glass is versatile enough to accommodate both neat and watered-down whisky, making it easy to savor the magic of the spirit.
Where is the Glencairn Glassware Manufactured?

Glencairn glassware is manufactured by partners of Glencairn Crystal Studio. In most cases, Glencairn glassware is produced in manufacturing facilities located in the European Union.
Is the Glencairn Glass Lead Free?

Yes, the Original Glencairn Glass is manufactured from Lead Free Crystal.
How do I know if my Glencairn glassware is authentic?

By purchasing from an authorized retailer such as Liquid Ministry, you can always be sure that your Glencairn glassware is authentic. Every genuine Glencairn Glass has a 'The Glencairn Glass' stamp on its base. Due to design updates to these stamps over the years, some stamps may have different fonts depending on when they went into circulation.

Unfortunately, counterfeit Glencairn products are extremely common on marketplaces such as Amazon and eBay. It is always worthwhile to order your glassware from authorized retailers to be sure you're receiving glasses that are guaranteed to be safe and top quality.